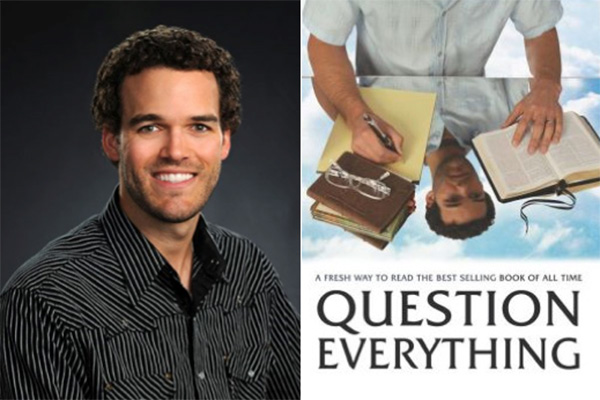 'Question Everything'
Inspired by work with college students, campus minister writes book
12:49 p.m., June 7, 2013--Drawing on his work as a University of Delaware campus minister, Tyler Ellis recently released Question Everything: A Fresh Way to Read the Best Selling Book of All Time, a book that innovatively asks the reader faith-based questions about every New Testament Bible verse. 
"The idea to write a question for every verse in the New Testament was actually inspired by doing ministry on the University campus," says Ellis. "I've been a college minister for nearly 10 years now and a minister at UD for the last three."
'Resilience Engineering'
The University of Delaware's Nii Attoh-Okine recently published a new book with Cambridge University Press, "Resilience Engineering: Models and Analysis."
Reviresco June run
UD ROTC cadets will run from New York City to Miami this month to raise awareness about veterans' affairs.
Active with Blue Hens for Christ, an on-campus nondenominational student organization, Ellis plays an active role in the UD community. He regularly meets with students and faculty members of all different faith backgrounds and encourages everyone to face his or her doubts, ask questions and define his or her personal outlook on life.
"Reading this book is like engaging in a spiritual treasure hunt for hidden nuggets in God's word," says Titus Awokuse, professor of applied economics and statistics at UD and Blue Hens for Christ faculty adviser. "This book will ultimately become a popular resource for getting the most out of personal and group Bible studies."
With nearly 8,000 questions, Ellis's book engages the reader with personal reflections and deepens both Bible comprehension and self-understanding. Ellis says that Question Everything, designed for readers of all ages and religious backgrounds, provokes thought from the reader and acts as an interactive journal.
"[Question Everything] doesn't tell you what to believe, but invites you to go to the source yourself -- when people allow their questions to launch them on a quest for truth, they take a step in the direction of good faith as they grow [confident in] their own beliefs," says Ellis.
Ellis currently serves as a board member for the Campus Crosswalk, a national campus ministry organization, and also as campus minister for the Newark Church of Christ and UD. In the past, he apprenticed and worked with AIM (Adventures in Missions), a Christian evangelical missionary organization. 
Ellis lives in Newark, Del. with his wife and daughter. He also actively blogs on his website, which includes interviews with members of the University community. 
For more information on Question Everything and Tyler Ellis, visit the website.
Article by Laura Hepp