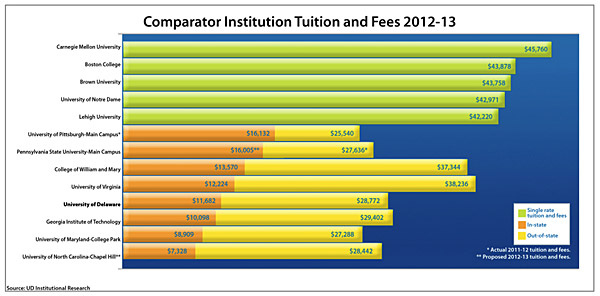 UD tuition
University of Delaware announces tuition rates for 2012-13
4 p.m., July 5, 2012--Tuition and mandatory fees for in-state students at the University of Delaware will increase $490 or 4.4 percent next year. This is the lowest percentage increase for in-state undergraduates at UD in five years.  Out-of-state tuition and mandatory fees will increase $1,310 or 4.8 percent. This, too, is the lowest percentage increase in five years.
Total in-state tuition and fees for the 2012-13 academic year will be $11,682. For out-of-state students, total tuition and fees will be $28,772. With the addition of room and board for undergraduates who live on campus, the total expense in the 2012-13 academic year will be $22,440 for in-state students and $39,530 for out-of-state students.
From graduates, faculty
As it neared time for the processional to open the University of Delaware Commencement ceremonies, graduating students and faculty members shared their feelings about what the event means to them.
Doctoral hooding
It was a day of triumph, cheers and collective relief as more than 160 students from 21 nations participated in the University of Delaware's Doctoral Hooding Convocation held Friday morning on The Green.
Approximately 40 percent of next year's increase is necessary to cover rising financial aid costs. The current economic environment is affecting many families, resulting in more students who need assistance under the University's Commitment to Delawareans and other financial aid programs. Forty-six percent of in-state students who have enrolled since fall 2009 have received financial assistance through the Commitment to Delawareans, and the average per-year aid package (including support for tuition, fees and on-campus room and board) during this time is $15,126. In fall 2011, 72 percent of UD's undergraduates received some kind of financial aid, including grants, loans and work-study. 
Since President Patrick Harker took office in 2007, the University has increased financial aid by 72 percent. In that time the total amount of financial aid distributed from all funds for undergraduate and graduate students has grown by $84.5 million — from $116.8 million five years ago to $201.3 million. "UD is committed to being affordable for students without sacrificing quality," said Harker. "The amount of financial aid we provide has increased significantly in recent years, and this aid is an important part of our pledge to help students access a UD education."
Also contributing to UD's rising tuition and fees are the increasing costs of facilities operations and library resources. "There are practical limits to universities' ability to control costs, which are driven largely by the number of faculty and staff and the expense of maintaining facilities — as well as employment costs and student financial aid both of which are growing faster than the overall consumer inflation rate," said Executive Vice President Scott Douglass. 
Even with a tuition increase, UD remains a good value said Douglass. The University of Delaware continues to rank high on national "best buy" lists. A recent study by PayScale, published in Bloomberg Businessweek, used pay reports from 1.4 million U.S. college graduates to rank colleges in terms of their return on investment (ROI) — that is, graduates' earning power minus tuition spent. Of the 554 schools in the study, only 13 ranked higher than the University of Delaware in annualized net ROI.
Tuition and fees account for approximately 34 percent of the full cost of educating a Delaware resident at UD. The additional 66 percent is composed of state appropriations, contracts and grants, endowment earnings and contributions. In contrast, tuition and fees account for approximately 85 percent of the full cost of educating an out-of-state resident at UD. The remaining 15 percent is composed of other revenue and support.
UD receives an appropriation from the state to support the cost of education for in-state students. This appropriation in fiscal year 2013 will account for 11.5 percent of the total UD operating budget, down from 13.0 percent last year and 16.1 percent five years ago. The total impact of this decline in state operating support over the past five years is $14.7 million. 
"This year marks the 150th anniversary of the Morrill Act, which dramatically expanded access to higher education, opening it up to people without great wealth," said Interim Provost Nancy Brickhouse. "UD's land-grant mission continues today, as we equip students with the skills and knowledge they need to excel in a changing global economy. Students at UD benefit from active participation in translational research and discovery learning projects with faculty in the laboratory, classroom and field."
For a look at comparator institution tuition and fees, click here.
Graduate tuition
The University uses a base tuition rate for all graduate students. Tuition for graduate students at the University of Delaware will increase $1,300, or 5.0 percent, for the 2012-13 academic year — the same rate of tuition increase for undergraduate out-of-state students — bringing the annual full-time graduate tuition cost to $27,240. 
Graduate students should visit the website of the college in which they are enrolled for information about scholarships and other funding opportunities. For more information on approved graduate student tuition and fees, visit www.udel.edu/gradoffice/polproc/index.html#tuition.
For more details on approved undergraduate tuition rates, room and board and student fees, visit www.udel.edu/rates. For more information on UD's financial aid, ebilling and payment options, visit www.udel.edu/sfs.