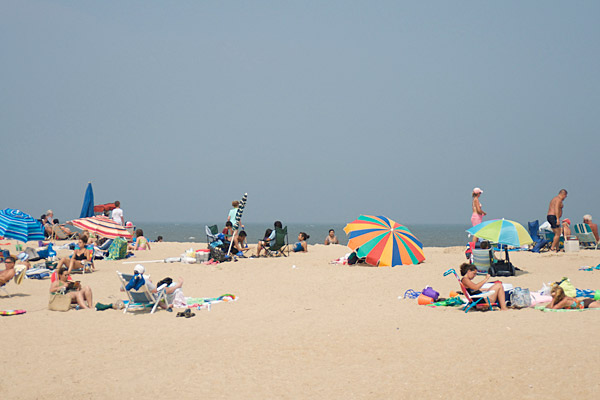 Top-ranked beaches
Sea Grant helps Delaware beaches reach 5-star rankings
11:27 a.m., July 3, 2012--Delaware's beaches are among the most pristine in the country, thanks in part to University of Delaware water quality testing efforts. 
The UD Citizen Monitoring Program, run by Delaware Sea Grant staff with assistance from trained citizen volunteers, analyzes water samples collected by the state.
From graduates, faculty
As it neared time for the processional to open the University of Delaware Commencement ceremonies, graduating students and faculty members shared their feelings about what the event means to them.
Doctoral hooding
It was a day of triumph, cheers and collective relief as more than 160 students from 21 nations participated in the University of Delaware's Doctoral Hooding Convocation held Friday morning on The Green.
"It's a real partnership," said the program's manager, Joe Farrell. "We are proud to help protect Delaware's coastal waters and extremely grateful to the Delaware General Assembly for ongoing support of our role."
Delaware recently ranked first nationally for beach water quality, according to an annual survey by the Natural Resources Defense Council (NRDC). The council evaluated data from 3,000 beaches nationwide to come up with the state rankings. 
The NRDC also issued star ratings to 200 popular beaches around the country, awarding up to five stars for exceptionally low water quality violation rates and strong testing and safety practices. Dewey Beach and Rehoboth Beach were among only 13 beaches nationwide that received 5-star ratings.
Monitoring frequency is one of the factors in the rankings, and staff from UD's program process beach water samples twice per week at the Hugh R. Sharp Campus in Lewes. The location is much closer to the beach than the state's labs in Dover, helping scientists from the Department of Natural Resources and Environmental Control meet collection time standards.
Volunteers provide assistance in the lab and also collect samples from the perimeters of nearby bays and tributaries. Since the program started two decades ago, nearly 300 volunteers have donated more than 25,000 hours of their time.
About Delaware Sea Grant
The University of Delaware was designated as the nation's ninth Sea Grant College in 1976 to promote the wise use, conservation and management of marine and coastal resources through high-quality research, education and outreach activities that benefit the public and the environment.
UD's College of Earth, Ocean, and Environment administers the program, which conducts research in priority areas ranging from seafood safety to coastal hazards.
Article by Teresa Messmore
Photo by Marine Public Education Office