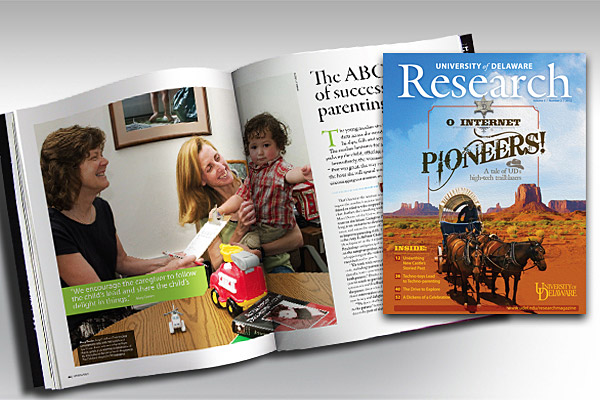 New UD Research magazine
Issue highlights UD's Internet pioneers and other trailblazing work
9:58 a.m., July 9, 2012--A new edition of the University of Delaware Research magazine — available in print and online, including for the iPad — celebrates UD's Internet pioneers and spotlights other trailblazing research in child development to nanoscience.
David Mills, professor of computer and electrical engineering, was instrumental in building the Internet in the 1970s and '80s, a project he said was "great fun." 
Chronic wounds
UD's Millicent Sullivan and Kristi Kiick have received a $1.4 million grant from the National Institutes of Health for research that could provide a new approach to the treatment of chronic wounds.
Prof. Heck's legacy
The American Chemical Society is highlighting the legacy of the late Nobel laureate Richard Heck, the Willis F. Harrington Professor Emeritus of Chemistry at the University of Delaware with a digital tribute on its publications website.
The self-professed "Internet grease monkey" loaded a mini-computer with software he wrote to test protocols for transmitting data. This router, the "Fuzzball," would serve as a critical research tool for the information highway.
David Farber, now Distinguished Policy Fellow of Electrical and Computer Engineering, and a few students and faculty operated the first global "post office" for academic email in DuPont Hall.
UD faculty and alumni have rustled up such computing innovations as the world's first portable laptop computer, the touchpad interface used in Apple's iPhone and iPad, and the technology that powers the world's most influential supercomputers.
Also in this issue, Erica Armstrong Dunbar, associate professor of history, traces the footsteps of Ona Judge, a slave of Martha Washington who escaped to freedom in 1796, and the Washingtons' efforts to retrieve her — the subject of a forthcoming book.
Through her Infant Caregiver Project, Mary Dozier, Amy E. du Pont Chair in Child Development, has developed a successful strategy called ABC — for "Attachment and Biobehavioral Catch-up" — to help parents adopting internationally, foster parents and high-risk birth parents to improve their parenting skills. 
Roberta Golinkoff, H. Rodney Sharp Chair in the School of Education, underscores that parents, and not electronic gadgets, are their children's most effective teachers in "Techno-toys Lead to Techno-parenting — and That's the Problem!"
By modifying toy ride-on racecars like Mater and Barbie, Cole Galloway, professor of physical therapy, and his team are giving toddlers with limited mobility a new "engine" for exploring their world. Learn how UD is putting this cool technology in action.
Despite the tough economy, the University has been fortunate to be able to hire outstanding faculty in critical areas. A half-dozen newcomers share why they decided on UD and tell us more about themselves in candid profiles.
In honor of the bicentennial of his birth, "Test Your Knowledge" focuses on Charles Dickens. Will this be your best of times, or worst of times? Take the quiz and find out.