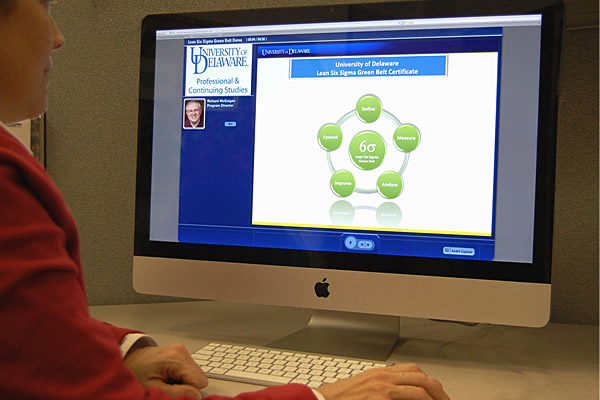 Keeping current professionally
Online technology can provide educational opportunities to busy people
8:11 a.m., July 11, 2012--Finding the opportunity to stay professionally current and relevant or get the education needed for a career move can be a challenge. Online programs can help busy people fit education into the picture.
Beginning in the fall, the University of Delaware Lean Six Sigma Green Belt Certificate will transition to a blended format -- part online and part in-class -- making it more accessible than ever to working adults throughout the region.
From graduates, faculty
As it neared time for the processional to open the University of Delaware Commencement ceremonies, graduating students and faculty members shared their feelings about what the event means to them.
Doctoral hooding
It was a day of triumph, cheers and collective relief as more than 160 students from 21 nations participated in the University of Delaware's Doctoral Hooding Convocation held Friday morning on The Green.
Lean Six Sigma Green Belt is a noncredit, professional development program that gives participants the skills to improve work processes with a disciplined, data-driven approach and teaches proven methods to analyze and solve problems. 
Past participants in the program indicated that they valued the face-to-face interaction with the instructor and their fellow students, but that they would also welcome the convenience of online learning for particular components of the program. The new format provides a best of both worlds situation.
A demonstration of the online portion of the Six Sigma Green Belt Certificate and further information is available at this website.
Other online programs are available for those seeking to renew their credentials and move ahead in their careers.  Health Care Risk Management makes its debut in a completely online format in the fall. This program gives an overview of risk management in the health care setting and allows professionals to enter this growing field. More information is available at this website.
In addition, UD's RN Refresher Online is designed to help nurses expand their professional options. It is ideal for those who have been out of active nursing practice and wish to update their competence and return to a clinical setting, or for those who need to meet a continuing education requirement in order to renew or maintain their nursing license. More information can be found at this website.