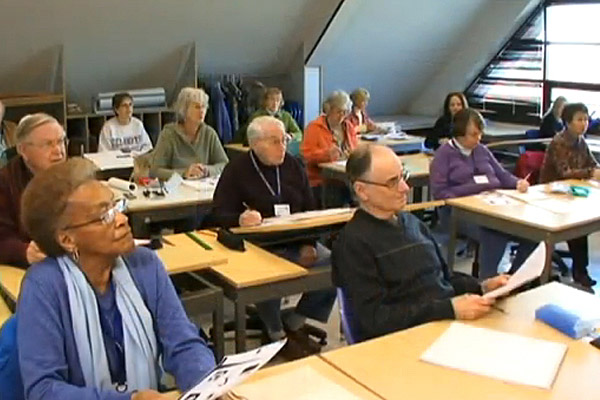 Osher at Bethany
Bethany classes offered by Osher Lifelong Learning Institute at UD
3:55 p.m., July 30, 2012--Classes on a wide array of topics for people 50 and over will be offered in Bethany Beach starting this September as part of the fall semester at Osher Lifelong Learning Institute at the University of Delaware in Lewes.
"The University of Delaware has a proud history as one of the earliest and largest lifelong learning programs in the country," says James Broomall, associate provost for professional and continuing studies at UD. "We are looking forward to further expanding our program in Bethany Beach this fall."
From graduates, faculty
As it neared time for the processional to open the University of Delaware Commencement ceremonies, graduating students and faculty members shared their feelings about what the event means to them.
Doctoral hooding
It was a day of triumph, cheers and collective relief as more than 160 students from 21 nations participated in the University of Delaware's Doctoral Hooding Convocation held Friday morning on The Green.
Classes including history, art, poetry, humanities and life style topics will be offered on Monday and Wednesday mornings for a 10-week semester starting Sept. 10 at the Bethany Beach Municipal Building and Community Center, 214 Garfield Parkway.
"We are pleased with the tremendous response we have received from the community to our plans to grow in the south coastal area," says Broomall.  "The hospitality of the town of Bethany and the support of local volunteers have helped make this new endeavor possible."
Examples of the classes being offered at the new Bethany location include:  "Eireann: The Myths, the Music, the Culture;" "How to Look at and Understand Great Art;" and "Introduction to Conversational Spanish." 
All classes are designed simply for the enjoyment of learning – there are no exams or grades. In addition to the eight new courses in Bethany, over 60 classes will be offered during the fall 2012 semester in Lewes and other nearby locations.
"We have an interesting and diverse lineup of classes scheduled for the fall in Bethany and since it is part of our Lewes program, members pay one fee to join and can take classes at both locations," says Broomall.
The Osher Lifelong Learning Institutes at the University of Delaware are membership organizations that provide opportunities for adults 50 and over to learn, teach and travel with their peers.  The requirements for admission are an interest in a continuing educational experience, support of programs through participation and a modest membership fee.
Registration for the fall semester is now underway and all applications received by Aug. 23 will receive priority consideration.  Members of the Lewes program pay a fee to join for the year or the semester and are entitled to take as many classes as they like, depending on availability, in both Bethany and Lewes locations.
UD's Osher Lifelong Learning Institutes are located in Lewes, Dover and Wilmington.  For more information call the Osher Lifelong Learning Institute office in Lewes at 302-645-4111 or visit the Lewes program website.