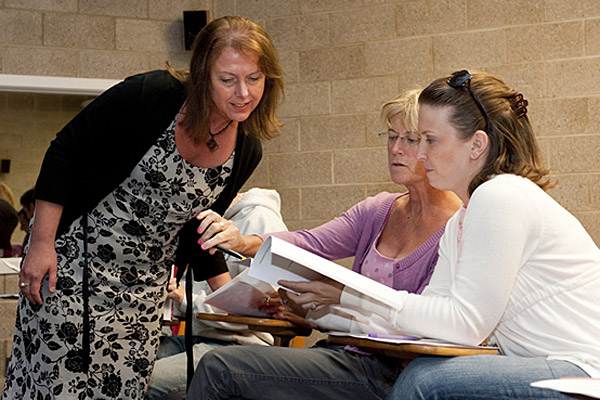 International reach
UD musical ensembles, faculty attend ISME conference in Greece
11:58 a.m., July 10, 2012--The acclaimed University of Delaware Chorale, UD-17 and Delaware Steel are among the elite ensembles competing in juried competition at the 30th International Society for Music Education (ISME) conference to be held July 15-20 in Thessaloniki, Greece.
The ensembles are under the direction of Paul D. Head, chair of the Department of Music and director of choral studies, and Harvey Price, assistant professor of percussion.
Fulbright awards
Three University of Delaware students and an alumna have received word this spring that they will travel abroad as part of the newest class of Fulbright Student Program award winners.
Peace Corps plans
Two University of Delaware students, John McCarron and Bridgette Spritz, have been selected as Peace Corps volunteers and will serve in Ghana and Rwanda.
Joining them at the conference will be Suzanne Burton, associate professor of music education, who will present two papers.
The largest gathering of music educators in the world, ISME's biennial conference draws 10,000 attendees. 
The ISME conference marks the fifth oversees tour in the last 10 years for Delaware Steel, UD's steel drum ensemble. Delaware Steel has previously traveled to Germany, Sweden and Israel. During their most recent trip to Israel, the ensemble performed with the Israel Philharmonic under long-time conductor Zubin Mehta.
This marks UD Chorale's first appearance at an ISME conference, and it is one stop on the vocal ensemble's 2012 European tour.
In 2007, the chorale competed in the Tallinn International Choral Competition hosted by the Estonian Choral Directors Association where they took the first place grand prix award over 40 other choirs. 
In the fall of 2010, the chorale won three second place awards and a third place award at the 42nd International Tolosa Choral Contest in Spain, placing in every category in which it competed against choirs from around the world.
Burton has presented at three previous ISME conferences. This year, she will present two research paper sessions: An International Partnership: Catalyst for the Development of Preservice Music Teachers' Perspective Consciousness and Cultural Sensitivity (with colleagues from Orebro University in Orebro Sweden), the result of an intercultural course on music, art, education and culture between UD and Orebro University in Sweden, and School University Partnerships: Can They Be Sustained Within a System in Flux? (with colleague Gena Greher from the University of Massachusetts Lowell). 
Greher and Burton have presented their research on school-university partnerships and music education methods courses in numerous venues, resulting in publications that have both a national and international reach.
These international collaborations, and the opportunity to learn about different methods of teaching and countries that have developed systems to include music and the arts as viable curricular subjects, influence how UD's music faculty prepare the next generation of musicians and music educators. 
Head noted that the Department of Music at UD has a strong presence in the international music education community, and the approximately 80 members of the UD community traveling to Greece this summer will strengthen that presence and serve to further build that reputation.