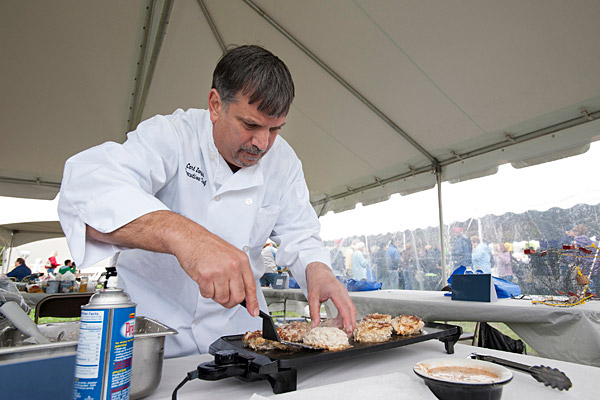 Calling all cooks
Aug. 10 is deadline to enter recipes in the 2012 Coast Day Crab Cake Cook-Off
1:29 p.m., July 12, 2012--Broiled or fried, remoulade or lemon – everyone has their favorite take on crab cakes. Enter your recipe by Friday, Aug. 10, to be considered as a finalist in the 23rd Coast Day Crab Cake Cook-Off. 
Eight selected contenders will compete for cash prizes, a plaque and the opportunity to return as a judge next year. The contest will be held at Coast Day on Sunday, Oct. 7, at the University of Delaware's Hugh R. Sharp Campus in Lewes, Del.
From graduates, faculty
As it neared time for the processional to open the University of Delaware Commencement ceremonies, graduating students and faculty members shared their feelings about what the event means to them.
Doctoral hooding
It was a day of triumph, cheers and collective relief as more than 160 students from 21 nations participated in the University of Delaware's Doctoral Hooding Convocation held Friday morning on The Green.
Sponsored by the Delaware Sea Grant College Program and the UD College of Earth, Ocean, and Environment, Coast Day is an annual educational festival showcasing Delaware's many marine resources. The popular event has won state and national awards for its efforts to promote environmental education and stewardship.
The Cook-Off is an opportunity for both professional and amateur cooks to celebrate the blue crab, one of Delmarva's most valuable seafoods.
"New trendy or traditional ingredients – what will be the secret this year to winning the Cook-off?" said Doris Hicks, seafood technology specialist for Delaware Sea Grant and organizer of the cook-off. "I suggest going with the recipe your family or friends rave about."
All crab cakes must be made from 100 percent blue crab meat. Each finalist will receive two pounds of jumbo lump blue-crab meat to use the day of the competition. All other ingredients and cooking utensils are the contestants' responsibility. Judging will be based on originality, predominance of crabmeat, taste and texture.
Download the contest rules and entry form or contact Delaware Sea Grant at 302-645-4346 or mkscorzi@udel.edu for a printed version. For a Coast Day poster, visit the event website. 
Article by Teresa Messmore
Photo by Evan Krape