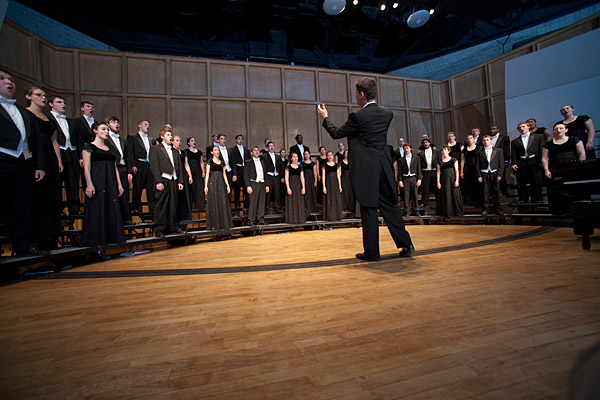 European tour
UD Chorale and UD-17 to tour Europe, participate in competitions
11:57 a.m., July 10, 2012--The acclaimed University of Delaware Chorale is among the elite ensembles competing in juried competition at the 30th International Society for Music Education (ISME) conference July 15-20 in Thessaloniki, Greece. 
The UD Chorale and UD-17, a premiere vocal chamber ensemble, also will compete in the Béla Bartók International Choir Competition to be held July 26-29 in Debrecen, Hungary.
Fulbright awards
Three University of Delaware students and an alumna have received word this spring that they will travel abroad as part of the newest class of Fulbright Student Program award winners.
Peace Corps plans
Two University of Delaware students, John McCarron and Bridgette Spritz, have been selected as Peace Corps volunteers and will serve in Ghana and Rwanda.
The ISME conference is one stop on the chorale's European tour, which includes performances in Germany and Hungary as well as Greece.
According to Paul D. Head, chair of the Department of Music and director of choral studies at UD, performing in Europe is an irreplaceable experience for vocal music students.
"The choral tradition comes out of Western Europe," he explains, "and Europeans seriously value choral singing as part of formal music education. Singing in Europe is a pilgrimage of sorts." 
He adds, "My first trip to Europe was with my college choir." 
Adding to their experience, the UD Chorale and UD-17 will appear in collaboration with local choirs in Traunstein, Germany, Budapest, Hungary, and Debrecen, Hungary, an opportunity that enhances the students' musical experience as well as provides a cultural exchange.
Also while in Debrecen, UD Chorale and UD-17 will compete in the prestigious Béla Bartók Competition as the only choral ensembles appearing from the U.S. 
The competition is open to amateur and professional choirs in five categories: children's choirs, youth choirs, equal voices, chamber choirs and mixed choirs. UD Chorale will compete in the mixed choir group and UD-17 will compete in the chamber choir group. 
Three stages of competition lead to the grand prize, the winner of which is invited to the 2013 European Grand Prix for Choral Singing Competition, a competition for the grand prize winners of six collaborating choir contests. 
The opportunity for students to appear consecutively in two high-profile events is unparalleled, and sets the foundation for an outstanding year of choral music at UD, Head said. 
While preparing for the tour, Head was notified that UD Chorale has also been selected to perform at the American Choral Directors Association National Conference in spring 2013, another distinguished honor for UD's elite choral ensemble. 
About UD Chorale and UD-17
The UD Chorale is among the most highly regarded college choirs in the eastern United States. In recent years, the choir has been invited to perform at both regional (Pittsburgh in 2002 and Hartford, Conn., in 2008) and national (Los Angeles in 2005) conventions of the American Choral Directors Association (ACDA). 
The chorale also has performed at Carnegie Hall in New York and Verizon Hall in Philadelphia's Kimmel Center for the Arts. 
In addition to annual regional tours, the chorale has traveled extensively throughout Europe with appearances in Scotland, Wales, France, Germany, Austria, Finland, Spain and Estonia.  
In 2007, the chorale competed in the Tallinn International Choral Competition hosted by the Estonian Choral Directors Association as part of a 10-day tour of Sweden, Finland and Estonia where they took the first place grand prix award over 40 other choirs. 
In June 2009, they were invited on a performance tour of China where they were featured in several collaborative concert appearances on Chinese university campuses in Shanghai and Beijing. 
The chorale was a featured choir in a master class with Helmuth Rilling at the February 2010 ACDA Conference Bach Institute in Philadelphia.
In the fall of 2010, the chorale won three second-place awards and a third-place award at the 42nd International Tolosa Choral Contest in Spain, placing in every category in which it competed against choirs from around the world. 
UD-17, the University's premiere vocal chamber ensemble, is a select 17-voice choir. Formed in 2009, the ensemble performs imaginative, innovative programming of a cappella and accompanied sacred and secular works spanning five centuries, with a strong commitment to performing contemporary and Renaissance repertoire. 
UD-17 makes frequent appearances throughout the mid-Atlantic region. In its first international performance, the ensemble took second place awards in both categories in which it competed at the 42nd International Tolosa Choral Contest in Spain. 
Photo by Kathy F. Atkinson