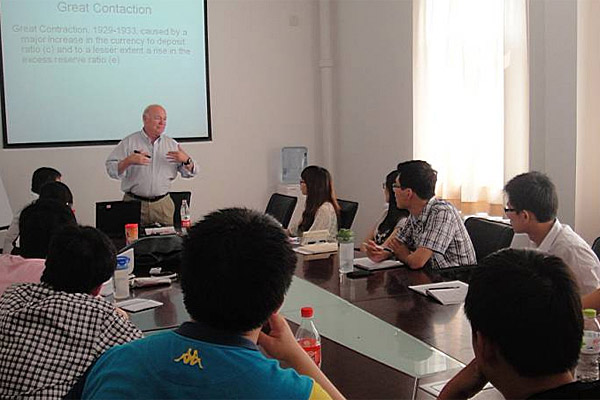 International relationships rise
Lerner College prof encourages economic policy domestically, internationally
1:23 p.m., July 2, 2012--For practically three decades, Burton Abrams, professor of economics in the Alfred Lerner College of Business and Economics at the University of Delaware, has witnessed many improvements to the educational structure of China's universities and economic growth.
Abrams was named Fulbright Professor at Nankai University in Tianjin in 1985 and since has continued to build international relationships, most recently upon his sixth visit to Beijing and Inner Mongolia.
Fulbright awards
Three University of Delaware students and an alumna have received word this spring that they will travel abroad as part of the newest class of Fulbright Student Program award winners.
Peace Corps plans
Two University of Delaware students, John McCarron and Bridgette Spritz, have been selected as Peace Corps volunteers and will serve in Ghana and Rwanda.
"I've been going to China over the past 28 years," said Abrams. "The country has gone from a stifled centrally-planned economy with little or no economic freedom to a more open and freer economy that has pulled hundreds of millions of people out of poverty."
On his visit to China in May, Abrams lectured on U.S. economic policy at two Chinese universities. 
At the Beijing Institute of Technology, Abrams discussed banking and monetary policy to a group of undergraduate students. He also gave a seminar for graduate students where he focused on his recent research extending the Bernanke-Blinder (B-B) credit-view model and its implications for current U.S. monetary policy. Bernanke-Blinder took a very standard macroeconomic model and added another financial asset to the model. 
"I've pushed the B-B model a bit further adding some constraints and opening their model to international trade and capital flows," said Abrams. "The most interesting aspect of the model is that it provides some insight into what Bernanke might be thinking as he develops monetary policy."
Abrams also spent one week in Hohhot, Inner Mongolia, to lecture at the Inner Mongolia Finance and Economics University on the comparisons and contrasts between America's Great Depression and the current Great Recession.
Milton Friedman long contended that had the Federal Reserve System behaved differently during the Great Depression the economy would have experienced a recession and not a depression.
According to Abrams, "the current Great Recession had all the early earmarks of being another depression, but the Federal Reserve System behaved differently and avoided the mistakes it made during the Great Depression."
Abrams said his research interests in macroeconomics, monetary economics and public choice have allowed international connections to increase between various schools he has visited over the years.
Yangyong Li, professor and vice dean of the School of International Economics at Shandong University of Finance and Economics, became a visiting faculty at the University of Delaware after one of Abrams' lectures.
Li is one of six Chinese faculty who have lectured or completed research in Delaware as a result of Abrams' influence.
"UD is a place with good resources," said Li. "My colleagues here are well equipped with sound theoretical foundations and excellent analytical methodology. There exist cultural differences, but you have to think about it. You explore and you will surely benefit."
Abrams said he will continue to establish ties between the U.S. and other countries. 
"How the U.S. responds domestically is equally as important as how we respond internationally," he said.
Article by Rachel Howard