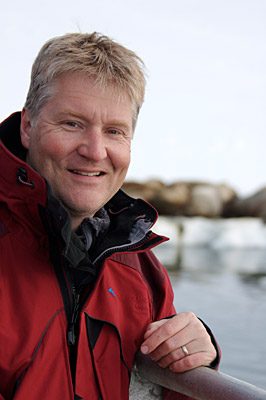 New leader
Mark Moline takes helm as director of School of Marine Science and Policy
11:44 a.m., July 19, 2012--When Mark Moline was an undergraduate, the biology major gained hands-on experience in marine science on research expeditions to Bermuda, Australia and Antarctica. Over the course of his career, he continued zigzagging around the globe to use underwater robots and remote sensing to better understand the ecosystems in which whales, penguins, plankton and other aquatic organisms live. 
"My whole life is sort of like a pinball going back and forth," Moline said. "When research opportunities come up, I grab them when I can."
'Resilience Engineering'
The University of Delaware's Nii Attoh-Okine recently published a new book with Cambridge University Press, "Resilience Engineering: Models and Analysis."
Reviresco June run
UD ROTC cadets will run from New York City to Miami this month to raise awareness about veterans' affairs.
Moline plans to emphasize such experiential learning among students and faculty in his new role as director of the School of Marine Science and Policy in UD's College of Earth, Ocean, and Environment (CEOE), which he joined earlier this month. Based in both Newark and Lewes, Moline oversees the school's four programs in marine biosciences, oceanography, marine policy and physical ocean science and engineering.
"Mark's many accomplishments in the field, the lab and the classroom reflect his passion for ocean science," CEOE Dean Nancy Targett said. "He has been at the forefront of incorporating new technologies into marine biology, and his enthusiastic leadership will help keep the school's tradition of excellence moving forward."
Moline joined UD from California Polytechnic State University (Cal Poly), where he was director of the Center for Coastal Marine Sciences, professor of biological sciences and the UNOCAL Professor of Marine Science. He has received numerous professional honors and published widely in international literature, including a 2010 paper he co-authored in Science on how polar marine ecosystems respond to rapid climate change.
Undergraduate research
His biology training began at St. Olaf College in Northfield, Minn., and while enrolled there he studied marine science in the field at the Shoals Marine Laboratory in Maine. He earned a National Sea Grant fellowship as an undergraduate to study striped bass with Horn Point Laboratory in Maryland and took several research cruises, including one to Bermuda. When a researcher he met needed assistance in Antarctica studying plant-like microbes called phytoplankton, he jumped at the chance and spent 20 weeks there. 
After graduating Moline returned to Horn Point, first working on oyster disease in Chesapeake Bay and then three years examining nutrient cycling in the Amazon floodplain in Brazil. He then went back to school to earn a doctorate in biology at the University of California, Santa Barbara (UCSB) in 1996, studying phytoplankton communities in Antarctica in relation to rising temperatures. 
Postdoctoral work
Moline conducted postdoctoral research on phytoplankton and remote sensing at Rutgers University, collaborating with scientists from Woods Hole Oceanographic Institution in the early years of autonomous underwater vehicle (AUV) deployment in marine biology applications. He attached bioluminescence-detecting sensors to the end of the vehicles to map the nearshore distribution of phytoplankton communities and examine what causes the microbes to light up – a topic of particular interest to the U.S. Navy, which encountered the phenomenon during the Persian Gulf War and inadvertently brought attention to underwater equipment. 
"It's not a good thing if you're trying to be stealthy in the water," Moline said. 
Research
Moline went on to join the faculty at Cal Poly in 1998 and simultaneously served as an adjunct professor at USCB. Over the course of his career he has used AUV-attached sensors to validate remote sensing on a wide scale, map distributions of harmful algal blooms in Florida and study whale habitat and food sources at depths twice as deep as could be reached with shipboard equipment. 
He also studied the impacts of climate change on penguin ecology in the Antarctic and mapped coral in Palau, an island east of Philippines. For the last several years, he has been working in the Arctic to map the sea floor and algae under ice sheets and recently returned from Norway after seven months as the Fulbright Distinguished Arctic Chair. 
A common thread in his diverse projects is the application of AUVs to not just measure physical properties of the ocean, like temperature and salinity, but also to make connections to biology on scales that the instruments can measure. His approach is collaborative in nature, often assisting other researchers in accomplishing their experiments by incorporating new technology. 
When interviewing for his new position at UD, Moline found the same collaborative spirit among researchers at CEOE. 
"I am really impressed by the faculty here and the group mentality," Moline said. "Like me, they seem to enjoy helping other people do their science well."
Vision for the future
His vision for the school includes equipping faculty with the tools they need to do their jobs efficiently and remain excited about their work. He plans to regularly communicate with potential partner agencies and anticipate trends in science that will assist faculty and strengthen the school's leadership in marine studies. 
Moline said he also looks forward to expanding opportunities for students, involving them in research and building on existing offerings such as the Semester-in-Residence program. CEOE was traditionally a graduate college and did not begin offering undergraduate majors until relatively recently. 
"The fact that we're growing an undergraduate program here is really exciting to me," Moline said. "And so is seeing how we can spark young students' interest early on."

Upcoming talk
Moline will be the featured speaker at the Ocean Currents Lecture at UD's Hugh R. Sharp Campus in Lewes at 7 p.m., Thursday, Aug. 16, in Room 104 of the Cannon Laboratory. His lecture, titled "Exploring the Coastal Ocean with Underwater Robots," is free and open to the public, but reservations are required due to limited seating and can be made by contacting Michelle Scorziello at mkscorzi@udel.edu or 302-645-4346.
Article by Teresa Messmore