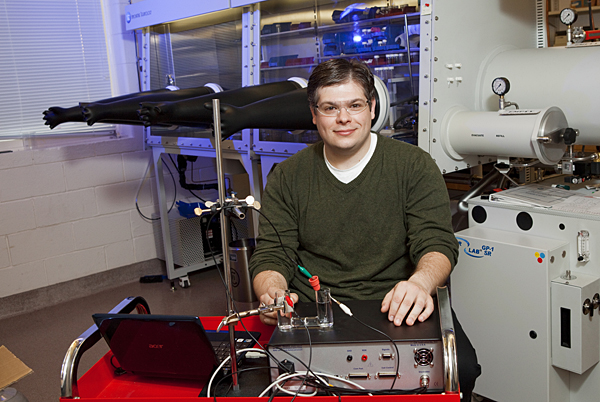 DuPont honors
Joel Rosenthal honored as DuPont Young Professor
12:05 p.m., July 16, 2012--DuPont's 2012 class of DuPont Young Professors represents some of the most promising emerging talents in the world of chemistry, including University of Delaware's Joel Rosenthal.
The chemical giant selected Rosenthal, an assistant professor of chemistry and biochemistry, based upon his research that involves transforming carbon dioxide (CO2) into liquid fuel, which is an "area of interest" for the company.  
Chronic wounds
UD's Millicent Sullivan and Kristi Kiick have received a $1.4 million grant from the National Institutes of Health for research that could provide a new approach to the treatment of chronic wounds.
Prof. Heck's legacy
The American Chemical Society is highlighting the legacy of the late Nobel laureate Richard Heck, the Willis F. Harrington Professor Emeritus of Chemistry at the University of Delaware with a digital tribute on its publications website.
"This program is an excellent way for DuPont to create lasting relationships with emerging research leaders around the world who are attacking some of the world's greatest challenges," said DuPont Senior Vice President and Chief Science and Technology Officer Douglas Muzyka.  
Rosenthal said those connections are the priceless benefit of the award, which also includes a $75,000 grant.
"It really provides a well-defined conduit to begin working with DuPont scientists," Rosenthal said.  "Getting the award means the chemists and engineers there find the work we are doing interesting and think it could be applicable to solve real world problems and actually make an impact in industry."
Professors are nominated by a member of the DuPont technical staff and the nominator serves as the liaison between the company and the faculty member.  Rosenthal has already met with some DuPont chemists to discuss ways they can collaborate, including incorporating his catalysts into high-pressure reactors DuPont is designing.
A major thrust of Rosenthal's research group is designing catalysts that can capture CO2 from the air and using renewable energy (solar or wind power) to convert the CO2 into a liquid fuel.  This potentially helps solve a storage conundrum within the renewable energy sector.  While solar and wind energy can create large amounts of power, they do not provide a steady flow around the clock, the way coal power plants can.  Storing the power renewables generate could alleviate those worries.  Rosenthal believes CO2-based liquid fuel could be the solution. Liquid fuels, such as gasoline, have very high volumetric energy densities, far higher than batteries.  
"It's a very, very attractive way to be able to store massive amounts of solar energy in a small space," he said.
The DuPont Young Professor program, which began in 1967, recognized nine young faculty members this year, representing eight American universities and one university in Germany.  The award is designed to provide start-up assistance to promising young and untenured research faculty.
Klaus Theopold, chair of the Department of Chemistry and Biochemistry, applauded Rosenthal's achievement. "The recipients of these awards are a very select group spread all over the world, and his selection is thus a true mark of distinction."
Photo by Ambre Alexander