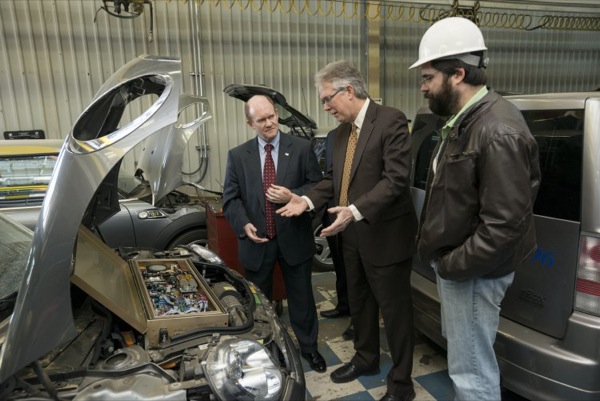 Coons visits STAR
Sen. Coons visits UD for update on vehicle-to-grid technology
11:39 a.m., Jan. 22, 2013--All-electric Mini Coopers at the University of Delaware's STAR Campus may soon be referred to as mini power plants as they become sources of distributed energy and demonstrate the potential that innovative vehicle-to-grid technology has to change the fundamental design of the delivery of energy in the United States.
Willett Kempton, director of the Center for Carbon-Free Power Integration (CCPI) and professor at UD, is the visionary and inventor behind the patented grid integration technology. Working with Kempton, UD's Office of Economic Innovation and Partnerships (OEIP) helped form a joint venture between UD and major energy producer, NRG Energy Inc. called "eV2g" to determine the technical and commercial feasibility of grid integrated vehicles.
Chronic wounds
UD's Millicent Sullivan and Kristi Kiick have received a $1.4 million grant from the National Institutes of Health for research that could provide a new approach to the treatment of chronic wounds.
Prof. Heck's legacy
The American Chemical Society is highlighting the legacy of the late Nobel laureate Richard Heck, the Willis F. Harrington Professor Emeritus of Chemistry at the University of Delaware with a digital tribute on its publications website.
For an update on the progress of eV2g, U.S. Sen. Chris Coons, a member of the Senate Energy Committee, recently visited the University's STAR Campus. While there, Coons test drove a Mini Cooper, toured the facility, and met with Kempton and representatives from private collaborators including electric grid operator PJM, Mini Cooper manufacturer BMW, and automobile retrofitter AutoPort Inc.
As part of Kempton's update, he said that the Mini Coopers are just weeks away from being registered and approved to power the grid and get paid for the service.
Coons, an avid supporter of the grid integration technology, called Kempton's vision "remarkable, compelling and creative," and said, "I look forward to sharing in Washington the innovative research and discovery being done at University of Delaware's STAR Campus. Lawmakers, researchers and the business community need to continue to work together to help facilitate a more rapid development of this American-invented energy independence measure."
For more information about the grid integrated vehicles visit WHYY on newsworks.org.
About the Office of Economic Innovation and Partnerships
Since its formation in 2008, under the direction of former DuPont vice president for research and development David Weir, OEIP has worked with the state, Delaware Technology Park, numerous researchers and companies in creating a culture where innovation and entrepreneurship can thrive in Delaware. 
Article by Laura Gleason
Photo by Evan Krape