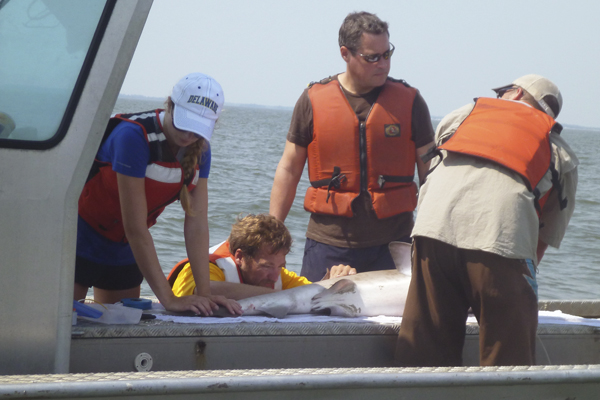 Shark special
UD scientists included on ABC's 'Ocean Mysteries with Jeff Corwin'
9:38 a.m., Jan. 10, 2013--As a kid, Danielle Haulsee loved watching nature shows on television. Now, the University of Delaware oceanography graduate student's shark research is set to be included in one.
The ABC series Ocean Mysteries with Jeff Corwin accompanied Haulsee and colleagues to Delaware Bay last summer to record the scientists catching sand tigers and tracking the sharks' migrations.
Chronic wounds
UD's Millicent Sullivan and Kristi Kiick have received a $1.4 million grant from the National Institutes of Health for research that could provide a new approach to the treatment of chronic wounds.
Prof. Heck's legacy
The American Chemical Society is highlighting the legacy of the late Nobel laureate Richard Heck, the Willis F. Harrington Professor Emeritus of Chemistry at the University of Delaware with a digital tribute on its publications website.
The resulting episode, "Eye of the Sand Tiger," is scheduled to air on Saturday, Jan. 12, on network affiliates nationwide. Click here to watch a preview.
"It was really cool to be working with Jeff because he was someone I grew up watching on TV," Haulsee said. "He could even have been one of the reasons why I fell in love with the environment."
Haulsee is a third-year doctoral candidate working with faculty adviser Matthew Oliver in UD's College of Earth, Ocean, and Environment in collaboration with Delaware State University's Dewayne Fox. The researchers are studying where sand tigers travel after leaving Delaware Bay in late summer and which water conditions the sharks tend to prefer.
The team used an underwater robot, called a glider, to locate the sand tigers and collect data on water temperature, salinity, clarity and oxygen levels. The information could help natural resource managers protect the species.
Haulsee spent the summer wrangling sand tigers alongside a boat to outfit the animals with satellite tags for the project. She was trained by experts from the Georgia Aquarium on how to insert the transmitters in a quick surgery on the up to 9-foot-long sharks.
"It was an amazing summer, but it was a lot of work," Haulsee said.
Locally, the Ocean Mysteries with Jeff Corwin episode is scheduled to run on Saturday at 10:30 a.m. on WPVI-ABC 6 in Philadelphia and 9:30 a.m. on WMDT-ABC Delmarva. 
Article by Teresa Messmore
Image courtesy of Danielle Haulsee