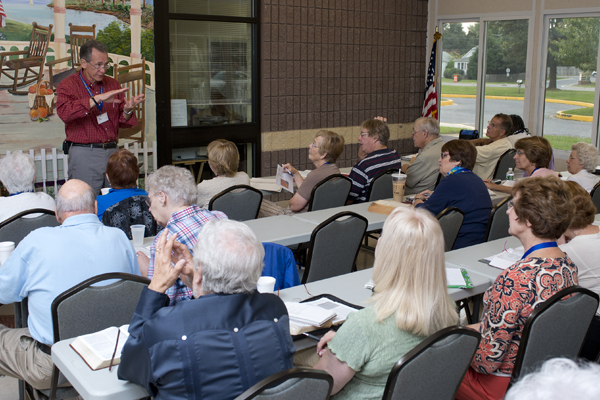 Osher: Dover courses
Osher Lifelong Learning in Dover offers exciting new courses for spring
2:05 p.m., Jan. 3, 2013--With 75 percent new classes and some popular returning favorites, the Osher Lifelong Learning Institute at the University of Delaware in Dover is gearing up for its spring semester beginning Tuesday, Feb. 26.
The 10-week semester offers classes for people 50 and over on a wide array of topics including literature, languages, history, drawing, painting, psychology, rock and roll, national parks and the Supreme Court.
From graduates, faculty
As it neared time for the processional to open the University of Delaware Commencement ceremonies, graduating students and faculty members shared their feelings about what the event means to them.
Doctoral hooding
It was a day of triumph, cheers and collective relief as more than 160 students from 21 nations participated in the University of Delaware's Doctoral Hooding Convocation held Friday morning on The Green.
"We've got an exciting lineup of classes for our spring semester that offers something for everyone," says Amy Weissenfluh, program coordinator. "We are offering a great selection of new classes with some fantastic new instructors. Of course, we also have many of our program's most beloved instructors and popular classes returning."
Located at the Modern Maturity Center, Osher Lifelong Learning in Dover offers college type course with no grades and no tests, just learning for the fun of it. A modest full semester membership fee of $140 entitles members to classes plus special guest lecturers and social activities.
Sample classes for the spring semester, which runs from Feb. 26 through Thursday, May 9, include:
Abraham and Mary Lincoln: A Historic Partnership;
Our National Parks;
Fundamentals of the Law and the U.S. Supreme Court;
The Adventures of Huckleberry Finn -- The American Epic?;
The Best American Short Stories;
Introduction to Basic Drawing;
Oil Painting;
Journaling as Self Exploration;
World War I; and
Brain and Human Behavior.
Registration for the spring semester is underway now. Information on registration and catalog is available by visiting the Osher Lifelong Learning in Dover website or calling 302-734-1200, ext. 168.
In-person priority registration will be held on Tuesday and Wednesday, Jan. 8 and 9, from 9 a.m.-1 p.m., at the Modern Maturity Center. Priority registration closes on Friday, Jan. 18.
Registration for classes continues after the priority registration deadline based on availability.
In addition, an open house will be held on Thursday, Feb. 14, from 10 a.m.-noon at the Modern Maturity Center.
"We encourage anyone interested in our program to check out our offerings on our website or call us and we'll send you a catalog. Better yet, stop by and visit us during our in-person registrations or open house and meet some of the fantastic people involved in lifelong learning in Dover and learn about our program," says Weissenfluh.
About Osher Lifelong Learning Institutes at UD
The Osher Lifelong Learning Institutes at the University of Delaware are membership organizations that provide opportunities for adults 50 and over to learn, teach, and travel with their peers. There are no academic requirements for admission.
The only requirements are an interest in a continuing educational experience, support of the programs through participation, and the modest membership fee.
UD's Osher Lifelong Learning Institutes are located in Wilmington, Dover and Lewes. More information on all locations is available at this website.
Photo by Kathy F. Atkinson