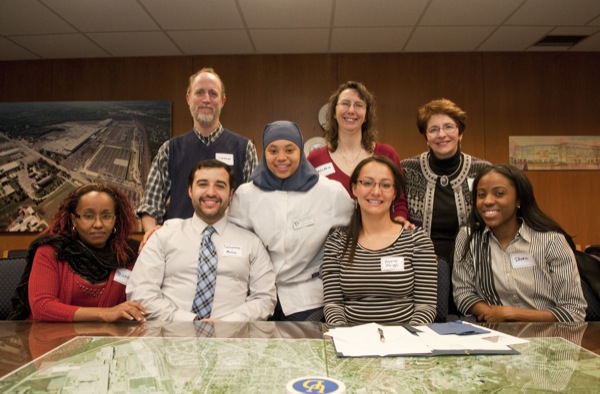 Nursing scholarships
Robert Wood Johnson Foundation aids second career nurses from underrepresented groups
11:34 a.m., Jan. 17, 2013--The University of Delaware School of Nursing has been selected, for the second time, as a grant recipient of the Robert Wood Johnson Foundation New Careers in Nursing (NCIN) Scholarship Program.
During the 2012-13 academic year, UD will receive $50,000 to support students in the school's accelerated baccalaureate in nursing program who are traditionally underrepresented in the field of nursing and are pursuing a second career in nursing. 
'Resilience Engineering'
The University of Delaware's Nii Attoh-Okine recently published a new book with Cambridge University Press, "Resilience Engineering: Models and Analysis."
Reviresco June run
UD ROTC cadets will run from New York City to Miami this month to raise awareness about veterans' affairs.
The NCIN Scholarship Program was launched in 2008 by the Robert Wood Johnson Foundation (RWJF) and the American Association of Colleges of Nursing (AACN) to expand enrollment in accelerated degree programs in schools of nursing while increasing diversity in the nursing workforce.
"We need a well-educated, diverse nursing workforce to provide quality care for our changing patient population," said David Krol, program officer for NCIN, RWJF senior program officer, and team director of the RWJF Human Capital portfolio. "NCIN is strengthening nursing education and helping to fill the pipeline with capable, culturally-competent nurses."
Schools receiving grants through NCIN provide scholarships directly to students from groups underrepresented in nursing or from economically disadvantaged backgrounds. Students who receive the NCIN scholarships — in the amount of $10,000 each — have already earned a bachelor's degree in another field and are making a career switch to nursing through accelerated nursing degree programs.
These programs prepare students to pass the licensure examine required for all registered nurses in as little as 12-18 months and provide quicker routes to workforce eligibility than traditional programs. 
At UD, the five students to be awarded NCIN scholarships are Turquoise Abdullah, Idara Inokon, Priscah Kabui, Sebastian Molina-Flores, and Yajaira Paugh.
Since 2008, the NCIN program has distributed 2,717 scholarships to students at more than 100 unique schools of nursing. For the 2012-2013 school year, funding for 400 scholarships was granted to 55 schools of nursing.
Students also receive other supports to help them meet the demands of an accelerated degree program. All NCIN grantee schools are required to maintain a mentoring program for their scholars, and many offer a pre-entry immersion program to help scholars learn study, test-taking and other skills that will aid them in managing the challenges of the program.
Kathleen Schell, director of the UD School of Nursing and NCIN liaison, remarked, "We are pleased and honored to once again receive these scholarships. The NCIN readily aligns with diversity initiatives in the school, college and University at large. It has and will prompt creation of additional supports for not only the NCIN scholars but the accelerated nursing program as a whole."
Pat Drake, Accelerated BSN program coordinator, shares that UD's mentoring program includes peers from the cohort of senior NCIN scholars and alumni who are practicing nurses.
"AACN is proud to collaborate with RWJF on this unique effort. NCIN scholars bring life experience that makes them exceptional, mature nursing candidates, and they represent the diverse, culturally-competent nursing workforce our nation needs," said AACN President Jane Kirschling, DNS, RN, FAAN. "NCIN provides the scholarship and support these students need to succeed in school, and thrive in the workforce."
The 2010 Institute of Medicine (IOM) report, "The Future of Nursing: Leading Change, Advancing Health," recommends increasing the proportion of nurses with a baccalaureate degree or higher, and increasing the diversity of students to create a workforce prepared to meet the demands of diverse populations across the lifespan. The mission of the NCIN program is helping to advance those recommendations, enabling schools to expand student capacity in higher education, and encouraging more diversity.
By bringing more nurses into the profession at the baccalaureate and master's degree levels, the NCIN program also helps to address the nation's nurse faculty shortage. Data from the U.S. Health Resources and Services Administration show that nurses entering the profession via baccalaureate programs are four times more likely than other nurses to pursue a graduate degree in nursing. This trend is reflected in the NCIN scholars, as 91 percent of the students receiving funding in the first three years of the program indicate a desire to advance their education to the master's and doctoral levels.
For more information about the University of Delaware School of Nursing's accelerated program, visit this website. To learn more about the NCIN program, visit the website.
About NCIN
The Robert Wood Johnson Foundation (RWJF) joined with the American Association of Colleges of Nursing (AACN) to create New Careers in Nursing: an RWJF Scholarship Program to help alleviate the nursing shortage and increase the diversity of nursing professionals. Through annual grants to schools of nursing, NCIN provides $10,000 scholarships to college graduates with degrees in other fields who wish to transition into nursing through an accelerated baccalaureate or master's nursing program. For more information, visit the website.
About RWJF
The Robert Wood Johnson Foundation focuses on the pressing health and health care issues facing our country. As the nation's largest philanthropy devoted exclusively to health and health care, the Foundation works with a diverse group of organizations and individuals to identify solutions and achieve comprehensive, measurable and timely change. For 40 years, the Foundation has brought experience, commitment and a rigorous, balanced approach to the problems that affect the health and health care of those it serves. When it comes to helping Americans lead healthier lives and get the care they need, the Foundation expects to make a difference in your lifetime. For more information, visit the website.
About AACN
The American Association of Colleges of Nursing is the national voice for baccalaureate and graduate programs in nursing. Representing more than 690 member schools of nursing at public and private institutions nationwide, AACN's educational, research, governmental advocacy, data collection, publications and other programs work to establish quality standards for bachelor's and graduate degree nursing education, assist deans and directors to implement those standards, influence the nursing profession to improve health care, and promote public support of baccalaureate and graduate nursing education, research and practice. For more information, visit the website.
Photo by Doug Baker