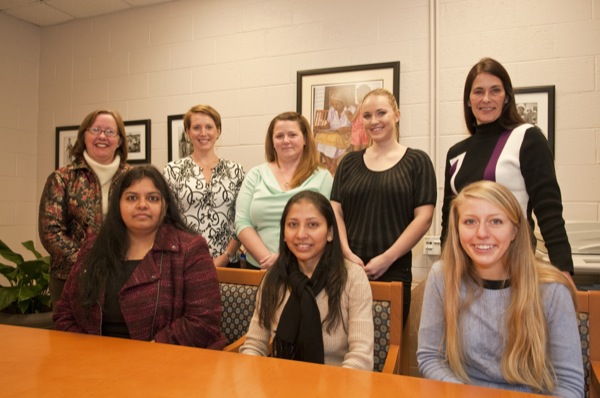 Nursing fellowships
Federal grant supports students in nurse practitioner program
10 a.m., Jan. 28, 2013--The University of Delaware's School of Nursing has received a two-year, $675,000 grant from the U.S. Department of Health and Human Services to support primary care nurse practitioner (NP) students. The grant was awarded through the Health Research and Services Administration's Advanced Education Nursing Traineeship (AENT) program.
The purpose of the AENT Program is to increase the number of advanced practice nurses trained to practice as primary care providers by providing grant funding for NP student traineeships.
From graduates, faculty
As it neared time for the processional to open the University of Delaware Commencement ceremonies, graduating students and faculty members shared their feelings about what the event means to them.
Doctoral hooding
It was a day of triumph, cheers and collective relief as more than 160 students from 21 nations participated in the University of Delaware's Doctoral Hooding Convocation held Friday morning on The Green.
"Ninety-five percent of current NP students are enrolled part time," says Barbara Harrison, associate professor and NP program coordinator in the School of Nursing. "This HRSA project will provide funding for full-time tuition, fees, and reasonable living expenses. Thus, part-time students can attend full time and graduate sooner. The long-term goal of the project is to increase the number of primary care nurse practitioners who are delivering health care in Delaware and the surrounding area."
Harrison said this is the largest HRSA grant ever received by the School of Nursing.  The funds will be available for full-time NP students until spring 2014.
"This grant underscores our dedication to doing our part to alleviate the primary health care provider shortage while expanding our efforts to serve diverse and vulnerable populations," says Kathleen Schell, associate professor and director of the School of Nursing. "NPs increase access to cost-effective, high-quality care — a key factor in improving individual and public health outcomes."
The students being supported for the spring 2013 semester are Mary Bourbon, Pritiben Desai, Brandi Gregge, Melanie Hiester, Tania Jenkins, Sangeetha Karunanithi, Lindsay Ogden, and Jennifer White.
"They are all great students with interesting life stories and plans for their future in nursing," says Harrison.
As a nurse working in the community, Hiester found the disparities of care to be obvious. "Several years ago I made it my mission to do all I could to combat those disparities," she says. "I've always wanted to become a nurse practitioner, but now I have a focus to work with the medically underserved. Midway through the nurse practitioner program, I lost my academic funding through my employer. This scholarship has made it possible for me to continue to work toward my lifetime goal. I will be forever grateful."
Desai would like to promote a holistic approach to health care that focuses on prevention and education. "The concept of the 'patient' is so much more complex than someone with an illness to be treated," she says. "A patient is a multifaceted person that has unique needs. The holistic approach treats the whole person and promotes optimal lifelong health. I am strongly committed to making a positive difference in patients' lives."
Article by Diane Kukich
Photo by Doug Baker