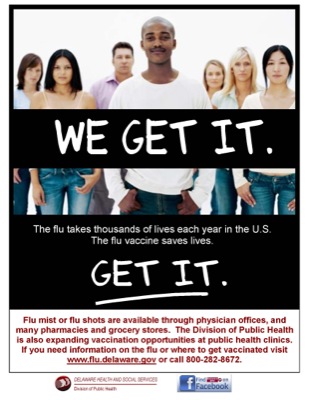 Avoid the flu
Safeguard your health, limit the spread of illness
1:31 p.m., Jan. 18, 2013--One way to prepare for the soon-to-begin spring semester is to safeguard your health -- and protect those around you -- by getting a flu vaccination (if you haven't already gotten one). Not only will you protect your own health, you'll be helping to limit the spread of illness. 
Vaccinations take two weeks to become fully effective, so now is the time to get a vaccination before spring classes begin Feb. 4.
June 6: UDid It! Picnic
All UD faculty and staff members are invited to attend the annual UDid It! employee appreciation picnic, set from 11 a.m.-1:30 p.m., Monday, June 6, on The Green.
2FA protects you
If you are using two-factor authentication (2FA), even if a hacker has your password, your information is probably safe.
Flu season is already under way, and it is widespread throughout the Northeast. While there have only been a few cases this year at UD's Student Health Services, the number of cases has been increasing slightly in the last few days.
The Delaware Division of Public Health (DPH) says that vaccination is the best protection. You can get a vaccination through your family physician, as well as many pharmacies and grocery stores. DPH is also expanding vaccination opportunities at public health clinics. If you need information on the flu or where to get vaccinated in Delaware, visit www.flu.delaware.gov or call 800-282-8672.
Additionally, DPH suggests some simple steps you can take to prevent infection:
--Washing hands with soap frequently or using alcohol-based hand sanitizers, especially after coughing, sneezing or touching your face;
--Covering coughs and sneezes with tissue and disposing of tissue immediately. If a tissue is not available, cough or sneeze into your sleeve. Droplets from a sneeze can travel up to 6 feet; and
--Staying home when sick and not returning to school or work until 24 hours after a fever.