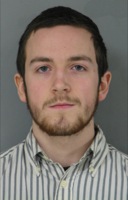 Graffiti vandal
Newark man arrested for graffiti vandalism
5:31 p.m., Jan. 11, 2013--An 18-year-old Newark man has been arrested in connection with graffiti vandalism amounting to thousands of dollars in damage throughout the city of Newark and on the University of Delaware's Newark campus.
As a result of ongoing graffiti investigations by the Newark Police Department Street Crimes Unit, Felix J. Smith has been linked to graffiti vandalism in 58 locations in Newark and 13 locations on the UD campus, resulting in more than $8,100 in damaged property.
Smith was arrested Jan. 10 by Newark Police and UD Police for 72 counts of graffiti, 71 counts of possession of graffiti implements, 17 counts of trespassing, one count of theft and one count of underage possession of alcohol. He was released from custody pending an appearance in Alderman Court #440 in late January. 
This arrest is the latest in Newark Police's ongoing investigation into the identification and arrest of graffiti vandals. In the past two years, Newark Police have charged 34 with graffiti offenses. 
The Newark Police Department reminds business owners and homeowners to promptly report graffiti vandalism. Once documented, graffiti should be removed.
For additional information on graffiti vandalism on the UD campus, contact Officer Michael Baez at 302-831-2224 or at baez@udel.edu.
For additional information on graffiti vandalism in the city of Newark, contact Cpl. Greg Micolucci at 302-366-7110, ext. 406, or at greg.micolucci@cj.state.de.us. 
Anonymous tips can be texted to 302NPD, with the message of TIP411. Information also can be provided anonymously to Crime Stoppers at 1-800-TIP-3333 or www.tipsubmit.com, where a reward may be available. 
Visit this website to receive a UD Crime Alert email whenever an article about a police investigation is posted on UDaily.