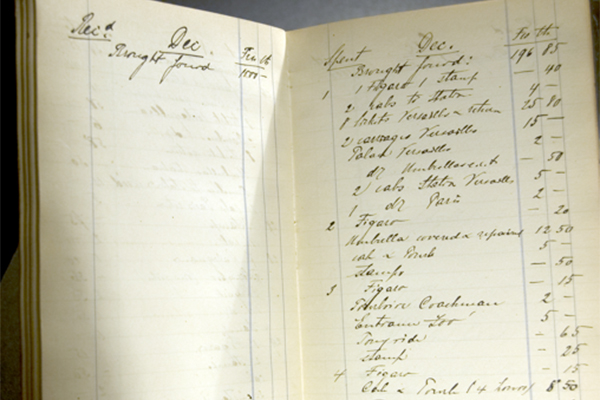 Through Jan. 31: 'Credits and Debits'
Library hosts exhibition 'Credits and Debits: Viewing History through Account Books and Ledgers'
9:42 a.m., Jan. 15, 2013--The University of Delaware Library has announced the opening of a new exhibition, "Credits and Debits: Viewing History through Account Books and Ledgers," in the single case near the Information Desk in the Information Room on the first floor of the Morris Library. "Credits and Debits" will be on view through Jan. 31.
The nearly 150 volumes comprising the Account Books and Ledgers collection in the Special Collections of the University of Delaware Library provide more than simply financial information about the businesses or individuals that maintained them. Readers can also learn about the day-to-day existence of the people whose names appear in the volumes, including their professions, what they ate, how they dressed, and where they lived or visited.
June 5: Blue Hen 5K
University of Delaware graduates planning to attend Alumni Weekend are encouraged to register for the annual Blue Hen 5K walk and run, which will be held Sunday morning, June 5.
June 6-9: Food and culture series
The 20th annual June Lecture Series at the Osher Lifelong Learning Institute at UD in Wilmington will be held June 6-9. Titled 'June a la Carte,' this year's program focuses on great political documents, feminism, world politics and a Newark cuisine sampler.
This small exhibition highlighting samples from the collection was curated by Jaime Margalotti, senior assistant librarian in the Manuscript and Archives Department, with the help of Marrette Pearsall. Pearsall is a student in Drexel University's master's program in library science. She interned in the Manuscript and Archives department during fall 2012, assisting with the description of materials in the Account Books and Ledgers collection. Laurie Rizzo, assistant librarian in the Special Collections Department, worked on the design and installation of the physical and virtual exhibition.