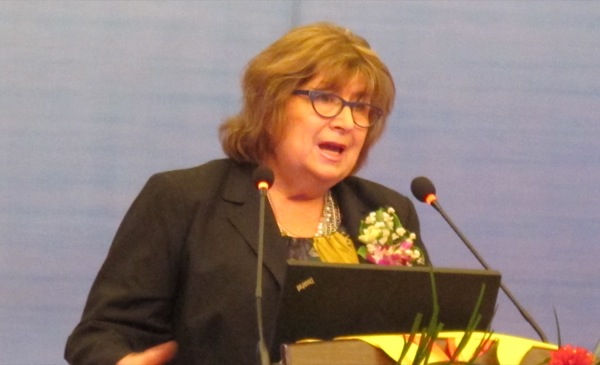 Blue economy
UD's Center for Marine Policy co-organizes Blue Economy Forum in China
8:41 a.m., Jan. 18, 2013--Researchers at the Global Ocean Forum, housed in the College of Earth, Ocean, and Environment's Gerard J. Mangone Center for Marine Policy at the University of Delaware, co-organized the second Asia-Pacific Economic Cooperation (APEC) Blue Economy Forum with China's State Oceanic Administration (SOA) in Tianjin, China, on Dec. 6-7.
The Blue Economy concept, which emerged at the recent United Nations Conference on Sustainable Development (Rio+20 Conference), has become a prominent area of focus at the global level. It seeks to integrate environmental and ecological issues related to the ocean into economic frameworks to support prosperous economies underpinned by healthy and productive marine ecosystems.
Fulbright awards
Three University of Delaware students and an alumna have received word this spring that they will travel abroad as part of the newest class of Fulbright Student Program award winners.
Peace Corps plans
Two University of Delaware students, John McCarron and Bridgette Spritz, have been selected as Peace Corps volunteers and will serve in Ghana and Rwanda.
The Blue Economy is seen as an innovative approach to achieving sustainable development and taking advantage of new opportunities from the ocean to support social and economic development.
The second APEC Blue Economy Forum brought together more than 200 ocean leaders from 15 APEC member economies, related Asia-Pacific countries and 10 international organizations from various sectors (governments, intergovernmental organizations and international agencies, non-governmental organizations, industry and scientific institutions) to develop consensus on next steps in establishing regional cooperation in the development of the Blue Economy.
APEC is a forum composed of the national economies of 21 Pacific countries that was established in 1989 in response to the growing interdependence of Asia-Pacific economies and seeks to promote free trade and economic cooperation throughout the Asia-Pacific region. 
Biliana Cicin-Sain, director of the Center for Marine Policy, and Miriam Balgos, associate scientist at the Center for Marine Policy, worked closely with the Chinese government and the APEC Secretariat to co-organize the Blue Economy Forum and develop a co-chairs' statement emanating from the forum, which calls for:
The development of regional guidelines for mainstreaming Blue Economy into domestic economic development agendas; 
Establishment and expansion of a regional Blue Economy Cooperative network;
Development of an international standard of classification for Blue Economy;
Improvement of knowledge and statistical capacity on ocean-related job trends and other economic developments and integration of relevant data into national statistics; and
Strengthening of individual and institutional capacity to achieve Blue Economy development at national and local levels.
"It is essential that we pursue the Blue Economy in a sustainable way and with poverty alleviation as a central goal," Cicin-Sain said. "The Blue Economy Forum helped to advance our thinking on this new paradigm and ensure that we keep the central principles of sustainability and equity in mind as we look to utilize new opportunities in the ocean."
The APEC Blue Economy Forum represents an important step forward in clarifying the Blue Economy concept and its implications at the local, national, regional and global levels — and developing consensus on how to integrate the Blue Economy into national economies in a sustainable and equitable way.
Article by Joseph Appiott
Photo courtesy of State Oceanic Administration, China