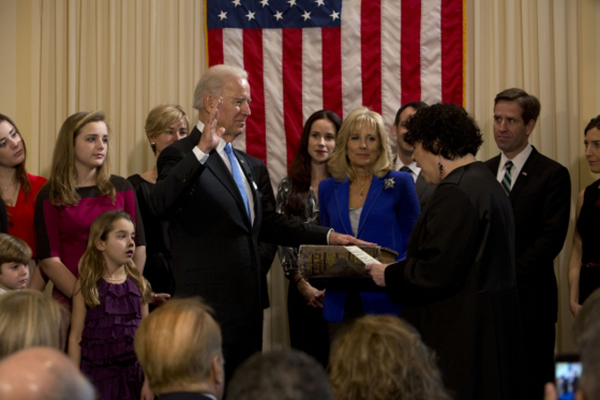 Second term
Vice President Joe Biden, UD alumnus, begins second term
9:22 a.m., Jan. 25, 2013--President Barack Obama and Vice President Joseph R. Biden Jr., a University of Delaware alumnus, took the oath of office for a second term and enjoyed inauguration ceremonies Monday, Jan. 21.
For a video of Biden taking the oath of office, click here.
'Resilience Engineering'
The University of Delaware's Nii Attoh-Okine recently published a new book with Cambridge University Press, "Resilience Engineering: Models and Analysis."
Reviresco June run
UD ROTC cadets will run from New York City to Miami this month to raise awareness about veterans' affairs.
Biden, a 1965 UD graduate, visited campus several times during his first term as vice president, delivering a Constitution Day lecture in September 2011.
Also that day, Biden announced that he would donate his Senatorial papers to the University. He served as a U.S. Senator from Delaware for 36 years until his election as vice president in 2008.
Those papers arrived on campus in June 2012 and are housed in the University Library's Special Collections Department.
Jill Biden, a UD alumna and wife of the vice president, also has been active on campus. She delivered the Winter Commencement address in January 2010.
With Biden as vice president, UD continues its role as the "epicenter" of politics in the United States.
He is joined by several other notable Blue Hens in politics, including New Jersey Gov. Chris Christie, Obama adviser David Plouffe and Republican strategist and commentator Steve Schmidt.
Official White House photo by David Lienemann