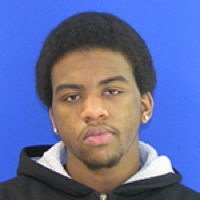 Robbery arrest
Newark Police arrest Elkton man for September robbery
10:41 a.m., Jan. 31, 2013--Newark Police have arrested a 20-year-old Elkton, Md., man for his involvement in the armed robbery of two University of Delaware students on Sept. 15.
The robbery occurred around 2:30 a.m. when the two victims were sitting on a curb in front of Building 300 at University Courtyard Apartments. They were approached by two men, armed with silver revolvers, and, as they were standing up, one of the suspects struck one of the victims, an 18-year-old woman, in the face, causing her to fall to ground. The other victim, a 19-year-old man, placed his hands in the air and sat back down on the curb. The suspects took both victims' cell phones and the man's wallet, then fled on foot. 
Immediately after the incident, a credit card stolen during the robbery was used at a convenience store in Elkton. Detectives obtained credit card records and surveillance video identifying the suspect who used the card. Flyers were disseminated to area law enforcement agencies, and detective received information from both Cecil County Police and Delaware State Police identifying the suspect as Aaron King of Elkton.
With the assistance of Elkton Police, detectives executed a search warrant at King's home on Jan. 29, but he was not located. He turned himself in to Newark Police on Jan. 30.
King was arrested on two counts of first degree robbery, one count of possession of a deadly weapon during the commission of a felony, one count of second degree conspiracy, one count of third degree assault and one count of offensive touching. He was committed to Howard R. Young Correctional Institution on $183,100 secured bail. 
Detectives are now working to confirm the identity of the second suspect. Anyone with information should contact Detective Mike Watson at 302-366-7110, ext. 133 or Michael.watson@cj.state.de.us. Anonymous tips can be texted to 302NPD, with the message to TIP411. Information also can be provided anonymously to Crime Stoppers at 1-800-TIP-3333 or www.tipsubmit.com, where a reward may be available. 
**********
Visit this website to receive a UD Crime Alert email whenever an article about a police investigation is posted on UDaily.