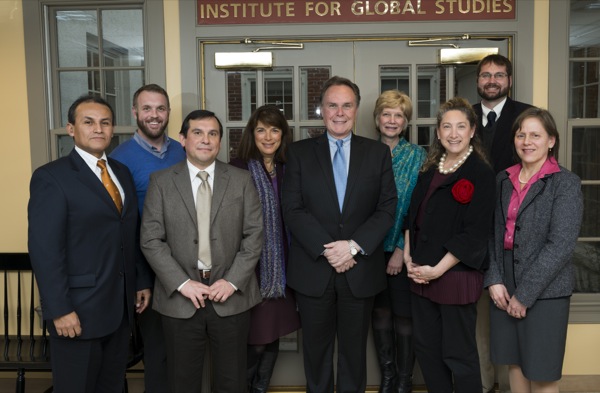 Peru, UD partners
Peruvian ambassador visits UD to discuss expanded partnerships
2:53 p.m., Jan. 18, 2013--Peru wants to see more of its students enroll at the University of Delaware, Harold W. Forsyth, ambassador of Peru to the United States, told a gathering of faculty and staff at UD's Institute for Global Studies (IGS) on Jan. 15.
"The number of Peruvian students studying in the U.S. has declined dramatically," Forsyth said at the meeting, which was convened by Nancy Guerra, associate provost for international programs and IGS director. "Our president very much wants to open academic pathways to world-class institutions like the University of Delaware."
Fulbright awards
Three University of Delaware students and an alumna have received word this spring that they will travel abroad as part of the newest class of Fulbright Student Program award winners.
Peace Corps plans
Two University of Delaware students, John McCarron and Bridgette Spritz, have been selected as Peace Corps volunteers and will serve in Ghana and Rwanda.
Guerra and a contingent of UD faculty and staff highlighted some of the current academic connections between the University and Peru for Ambassador Forsyth and Minister Counselor Renato Reyes. 
Debra Hess Norris, chair of the Department of Art Conservation, recently led a popular workshop in Lima on photographic heritage preservation for museum conservators. 
Julio Carrión, director of the Center for Global and Area Studies and an expert on Peruvian politics, spoke of the University's research and scholarship through the Latin American and Iberian Studies program. 
George Watson, dean of the College of Arts and Sciences, received an honorary professorship from Pontificia Universidad Católica del Peru in 2008 for his pioneering work in the area of problem-based learning (PBL), which encourages students to work in groups to carry out research and think independently to solve real-world problems. 
UD also currently has two study abroad programs in Peru — in applied anthropology and nursing. The anthropology program, currently under way during winter session, is exploring the archaeology and culture of the nation from its desert coast to the Amazon rainforest.
"We greatly welcome students from Peru to the University of Delaware and look forward to exploring new avenues of collaboration," Guerra said. 
The University's activities in Peru are part of UD's ongoing efforts to expand partnerships in Latin America, Guerra noted. 
UD currently has academic agreements with universities in Brazil, Chile, Colombia, Costa Rica, Ecuador, Mexico and Peru, and the UD Admissions Office and English Language Institute actively recruit students in Latin America. Recently, the University also launched a Spanish-language website that is among the largest in the United States.
Peru, which is about the size of Alaska, has one of the world's fastest-growing economies, with fish, minerals, sugar, coffee and cotton among its primary exports. The nation is home to the headwaters of the Amazon River and to the oldest university in the Americas — the National University of San Marcos — chartered in May 1551. 
Photo by Evan Krape