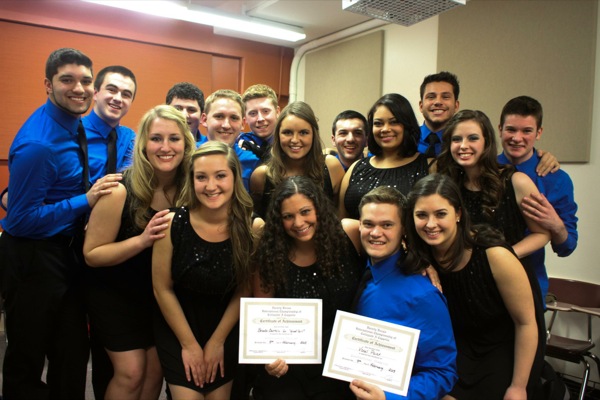 Vocal Point
UD's Vocal Point takes first place at international quarterfinal competition
10:30 a.m., Feb. 13, 2013--The semester started on a high note for Vocal Point, one of the University of Delaware's co-ed a cappella groups, with a first place win at the International Championship of Collegiate A Cappella (ICCA) Mid-Atlantic Quarterfinal competition on Saturday, Feb. 9, at Rutgers University in New Jersey.
Vocal Point earned 397 points to take the win outperforming second place Rider University's 'Til Further Notes by 17 points and third place Columbia University's SHARP by 69 points.
'Resilience Engineering'
The University of Delaware's Nii Attoh-Okine recently published a new book with Cambridge University Press, "Resilience Engineering: Models and Analysis."
Reviresco June run
UD ROTC cadets will run from New York City to Miami this month to raise awareness about veterans' affairs.
Brooke Bartolo, president of Vocal Point, also took home the outstanding soloist award for her performance of Good Girl.
The wins mean the group will advance to the ICCA Mid-Atlantic Semifinal competition, to be held March 30 at 8 p.m. in the Nicholas Music Center at Rutgers.
Tickets are on sale now for the semifinal event, which will feature the top two groups from each quarterfinal. 
"It is truly an honor to have won a best soloist award and placed first in such a prestigious competition and to move on for the first time to compete against some of the most talented a cappella groups in the nation," said Bartolo, who will graduate this year from the Alfred Lerner College of Business and Economics.  "We are so excited to have come this far and to have the opportunity to represent UD at semifinals."
Added Lauren Regan, publicity manager for the group and a graduating senior in the College of Education and Human Development, "Each year we have worked harder and harder so it is really rewarding to get this recognition. I could not imagine experiencing this with any other group of people and I am so proud of the dedication everyone gave to get here."
Considering a tight timeline – UD's spring semester begins later than those of other colleges in the region and so the group had less time to prepare for the competition – the win was even more impressive, said Jon Smith, musical director of Vocal Point. Smith also noted the members gave up other registered student organization and Greek life events and even came back to campus over Winter Session to put in rehearsal time.
"This is seriously a dream come true for all of us," said Smith. "It is our seventh year competing and we've finally done it! It just goes to show that hard work and determination really do pay off. This has made us closer than ever but we're not done yet."
As Smith noted, these wins mark the group's seventh year of performing at the international championship.
Last year, Vocal Point placed third at the ICCA South region quarterfinal at John Hopkins University in Baltimore. Previous wins also include a 2011 outstanding arrangement award from the ICCA South region quarterfinal at JHU for 2011 UD graduate Lauren Wells' arrangement of Secrets; and in 2007, an overall third place win at the ICCA Mid-Atlantic quarterfinals at Lafayette College and outstanding soloist award for 2009 UD graduate Alfredo Austin's performance of Sir Duke.
Vocal Point was also grateful to have the support of UD alumni, family and friends at the event despite the winter weather that hit the northeast over the weekend.
"The support we received from our fans was overwhelming," said Bartolo. "So many of our friends, family and alumni braved the snow and the distance to cheer us on. Their energy fueled our own energy and further motivated us to put on one of our best performances to date."
Vocal Point fans were apparently so supportive they received recognition as well.
Kurt Goetz, a 2001 UD graduate and one of Vocal Point's original members, said in addition to the first place wins by Vocal Point and Bartolo, "the second best moment of the night was the UD cheering section getting a special shout-out from the emcee."
For more information about Vocal Point, including event photos and audition information, visit the group's Facebook page.
About the ICCA
Varsity Vocals ICCA is the only international tournament that showcases student a cappella singing. Programs are held at the college and high school levels, and involve a judging panel that provides feedback to the groups.
The annual tournament runs from January through April in six regions – West, Midwest, South, Mid-Atlantic, Northeast and Europe – with each hosting several quarterfinal events. The top two college and high school groups at each quarterfinal advance to the college and high school semifinals, respectively. 
The winner of each semifinal is then invited to participate in the finals, held at the Lincoln Center for the Performing Arts in New York, where cash prizes and the title of grand champion are at stake.
For up-to-date results on the ICCA competition, visit Varsity Vocals. 
Article by Kathryn Meier