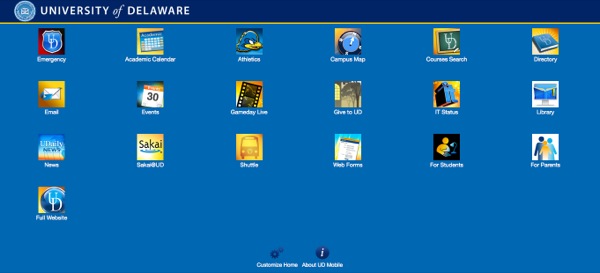 Mobile upgrade
UD Mobile Web upgraded to enhanced mobile framework
12:36 p.m., Feb. 25, 2013--The University of Delaware has upgraded UD Mobile Web to a feature-rich application based on the open-source framework called Kurogo. 
"This enhanced version of UD Mobile Web provides an improved rendering engine that supports both tablets and smartphones," Dave Costrini, manager, IT Web Development, said. "UD will no longer need to maintain multiple apps for different devices."
June 6: UDid It! Picnic
All UD faculty and staff members are invited to attend the annual UDid It! employee appreciation picnic, set from 11 a.m.-1:30 p.m., Monday, June 6, on The Green.
2FA protects you
If you are using two-factor authentication (2FA), even if a hacker has your password, your information is probably safe.
The University will be dropping support of its native apps in conjunction with the deployment of the enhanced UD Mobile Web. There will be no change in services offered to UD Mobile site visitors. The UD mobile app should be uninstalled and the mobile website bookmarked as a replacement.
"The new m.udel.edu will provide a feature-rich application that renders on all browser-capable devices regardless of operating system," Costrini said. "For example, users will be able to customize what they see on their devices – they will be able to turn features on and off as well as reorder the sequence in which icons appear."
To use the new version, simply log in to m.udel.edu.