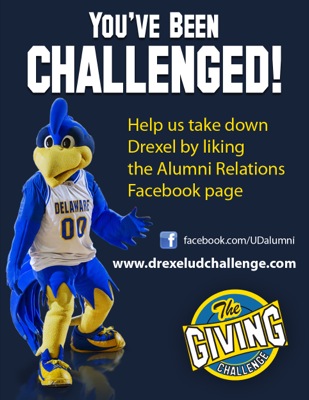 Giving challenge
Support the Blue Hens by taking part in two-week Drexel-UD Challenge
8:16 a.m., Feb. 15, 2013--Long-time athletic rivals University of Delaware and Drexel University will participate in a friendly off-the-court competition leading up to the women's basketball game on Sunday, March 3.
A joint effort between the two universities, the challenge offers alumni and friends a chance to "score points" for their favorite school by making a gift and "liking" their alumni relations Facebook page.
From graduates, faculty
As it neared time for the processional to open the University of Delaware Commencement ceremonies, graduating students and faculty members shared their feelings about what the event means to them.
Doctoral hooding
It was a day of triumph, cheers and collective relief as more than 160 students from 21 nations participated in the University of Delaware's Doctoral Hooding Convocation held Friday morning on The Green.
Every gift earns UD two points, and every Facebook "like" earns one point.  The challenge will run from midnight on Friday, Feb. 15, until 5 p.m. on Friday, March 1.
The winner will be announced at the UD-Drexel game that will take place in UD's Bob Carpenter Center Acierno Arena.
Monica Taylor, vice president for development and alumni relations at UD, said she hopes the friendly competition will encourage alumni and friends of UD to cheer on the women's basketball team and make contributions to support the University.
"This challenge is a great way to ignite excitement and Blue Hen spirit as UD takes on Drexel, one of its biggest rivals. Regardless of which university wins, the goal is to stir up excitement around the March 3 game and inspire others to give back to the University."
During the two-week Giving Challenge, UD alumni, parents, faculty and staff, and friends may give to any areas at UD about which they are most passionate, including athletics, academics, the arts or scholarship support.
"I'm happy to see UD and one of our biggest rivals, Drexel, coming together for this competition," said UD head basketball coach Tina Martin. "I can't think of a better way to raise excitement and funds for both universities — and have fun in the process."
Gifts must be made between midnight on Friday, Feb. 15, and 5 p.m. on Friday, March 1. The winner will be announced at the game on March 3.
To learn more, make a gift and "like" the UD Alumni Relations Facebook page, visit the challenge website. The site will be updated daily to indicate which school is in the lead.