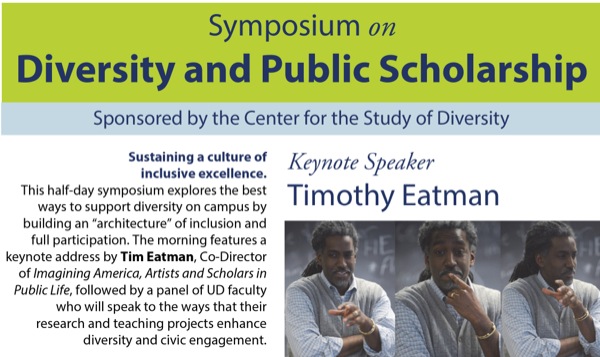 Diversity and public scholarship
Symposium to examine sustaining a culture of inclusive excellence
9:04 a.m., Feb. 22, 2013--University of Delaware faculty, staff, students and administrators are invited to participate in a Diversity and Public Scholarship Symposium, scheduled from 8:30 a.m.-1:30 p.m., Tuesday, March 12, in the Gallery at the Perkins Student Center. 
Tim Eatman, co-director of Imagining America, Artists and Scholars in Public Life, will present the keynote address. Eatman is an educational sociologist, and his work has informed his successful effort to have publicly engaged scholarship included in promotion and tenure criteria at Syracuse University.
June 6: UDid It! Picnic
All UD faculty and staff members are invited to attend the annual UDid It! employee appreciation picnic, set from 11 a.m.-1:30 p.m., Monday, June 6, on The Green.
2FA protects you
If you are using two-factor authentication (2FA), even if a hacker has your password, your information is probably safe.
After the keynote address, a faculty panel dedicated to exploring the intersection between diversity and public scholarship will engage the University community in meaningful dialogue. 
A working lunch will follow this interactive panel, and small groups of participants will be encouraged to discuss diversity and public engagement at UD.
For further details, including the symposium schedule and the list of panelists, please click here to download a PDF. Space is limited. All participants must R.S.V.P. by Friday, March 1, by emailing esdavis@udel.edu.