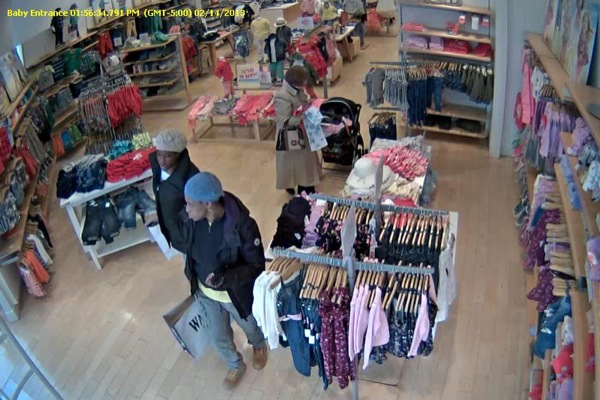 Assistance needed
Newark Police seek public's help in identifying suspects
5:10 p.m., Feb. 22, 2013--The Newark Police Department is seeking the public's assistance in identifying two suspects involved in a theft that occurred some time between 11:30 a.m. and 1 p.m. on Feb. 14 at Panera Bread, 140 East Main St., Newark.
Two unidentified suspects stole the wallet and credit cards of one victim and the credit cards of another, unrelated victim. A short time later, the suspects used the stolen credit cards at the AT&T Store and Walking Company at the Christiana Mall. They then attempted to use the stolen credit cards at the Baby Gap, but they left after store employees requested identification. 
Police have released surveillance photos of the two suspects, who are described as women 30 to 40 years of age. One suspect was wearing a black jacket, blue jeans and a tan cap, and the second suspect was wearing a black jacket and blue cap. Both were carrying bags from the Walking Company that contained multiple pairs of UGG footwear.
Anyone with additional information on the identity of the suspects should contact Officer Paul Lawrence at 302-366-7110, ext. 464, or paul.lawrence@cj.state.de.us. Anonymous tips can be texted to 302NPD, with the message to TIP411. Information also can be provided anonymously to Crime Stoppers at 1-800-TIP-3333 or www.tipsubmit.com, where a reward may be available. 
*****
Visit this website to receive a UD Crime Alert email whenever an article about a police investigation is posted on UDaily.