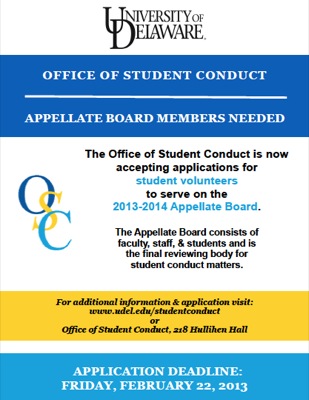 Appellate board applications
Office of Student Conduct Appellate Board accepting applications for student members
11:40 a.m., Feb. 5, 2013--The University of Delaware Office of Student Conduct is recruiting undergraduate students this spring to serve on the appellate board for the 2013-14 academic year. Applications are available starting Tuesday, Feb. 5, and are due by Friday, Feb. 22.
The Office of Student Conduct Appellate Board is the final reviewing body for pending student conduct matters and is an integral part of the student conduct process. 
From graduates, faculty
As it neared time for the processional to open the University of Delaware Commencement ceremonies, graduating students and faculty members shared their feelings about what the event means to them.
Doctoral hooding
It was a day of triumph, cheers and collective relief as more than 160 students from 21 nations participated in the University of Delaware's Doctoral Hooding Convocation held Friday morning on The Green.
"The appellate board reviews cases under appeal and determines whether there are grounds to merit a change in the case. The appellate board's decision is final and is immediately implemented by the Office of Student Conduct," said Holli Harvey, assistant director of the Office of Student Conduct. 
The appellate board is made up of several members from three different groups on campus — undergraduate students, university officials and faculty members. Panels consisting of one alternating member from each of the three groups meet regularly to make final decisions on appeals. 
"Having student members on the board is an integral part of the student conduct process so that the voice of the student body is included during the review of a case," said Harvey. "These students are involved in making what can become life changing decisions for their peers." 
Students on the board
Thomas Jackson, a senior economics and political science double major, applied for the appellate board halfway through his sophomore year and began serving as an appellate board member during his junior year.
"Each semester, I get called to panel meetings to review cases two or three times," said Jackson. "Meetings are usually a couple hours long. Sometimes, we only get through one case because of the complexity of that case, other times we get through more." 
Students serving on the appellate board fill out a calendar at the beginning of each semester based on their availability. 
"The Office of Student Conduct does a great job accommodating students' schedules and they make sure that every student on the board gets experience deciding appeals," said Jackson. 
Jackson, who also works with the Delaware Superior Court, applied to the appellate board because the experience seemed like a perfect match for his interests.
"I wanted to make sure that students' rights were being upheld while protecting the safety of the community at the same time," said Jackson. "
Eric Oppenheimer, a senior marketing and management double major, decided to apply to the appellate board after receiving an email about the program last year. 
"I've always been active in the UD community and I wanted to continue that in a unique way," said Oppenheimer. "For me, it's been really enriching to give back in a way most people don't even know exists." 
Both Jackson and Oppenheimer agree that their experience on the appellate board provides them with something different to put on resumes and discuss in job interviews.
"I've learned a tremendous amount of professional communication skills through working with different people on the team," said Jackson. "The process involves a lot of discussion towards a majority decision and that's not so easy." 
Getting involved
Students who want to apply to the appellate board must first complete an application. Students can obtain applications in the Office of Student Conduct, 218 Hullihen Hall, or on the website beginning Feb. 5.
Applicants must have completed one semester of undergraduate coursework on the UD campus, maintain a minimum cumulative grade point average of 2.2, and not have a current student conduct sanction, according to Harvey. 
After all applications are submitted, the Office of Student Conduct contacts qualified applicants via email with further instructions. After individual and group interviews, a handful of new student appellate board members will be selected in early April. 
Newly appointed appellate board members will complete training throughout April and May consisting of a combination of classroom instruction and hands on training. New members will be qualified to start serving on the appellate board as early as the summer, according to Harvey. 
Faculty and staff
UD faculty and staff who are interested in serving on the appellate board can contact the Office of Student Conduct for more information.
All UD students who are interesting in applying can contact Harvey by phone, 302-831-2117, or email student-conduct@udel.edu with any questions. For more information about the appellate board, visit the website.
Article by Kelley Bregenzer