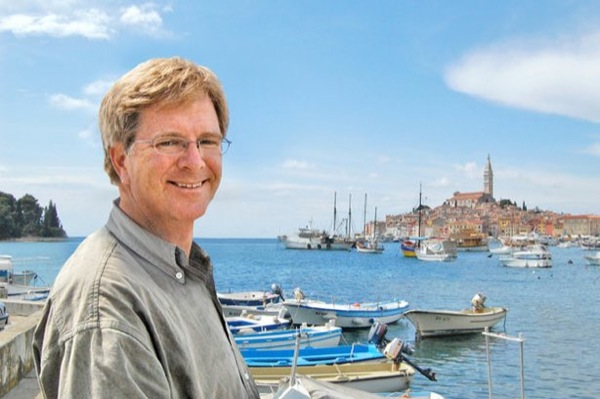 'Traveling as a Global Citizen'
Travel authority Rick Steves to speak at UD on March 11
1:50 p.m., Feb. 20, 2013--Rick Steves, widely known as America's leading travel authority and host of the popular public television series Rick Steves' Europe, will present "Traveling as a Global Citizen" on Monday, March 11, at the University of Delaware. 
The free public talk begins at 7:30 p.m. in Mitchell Hall on UD's main campus. It will be preceded by a question-and-answer session, from 4-5 p.m., at the University of Delaware Barnes and Noble Bookstore at 83 E. Main Street. Several of Steves' books will be available for purchase at the Q&A, as well as at Mitchell Hall, where the doors will be open starting at 7 p.m. A downloadable PDF of the flier is available.
A video simulcast of the talk will be offered in 120 Smith Hall, at the corner of South College and Amstel avenues.
Fulbright awards
Three University of Delaware students and an alumna have received word this spring that they will travel abroad as part of the newest class of Fulbright Student Program award winners.
Peace Corps plans
Two University of Delaware students, John McCarron and Bridgette Spritz, have been selected as Peace Corps volunteers and will serve in Ghana and Rwanda.
Steves' presentation, hosted by the Institute for Global Studies, is part of a year-long, 90th anniversary celebration of the University's launching of America's first study abroad program in 1923. 
On his television and radio programs and in his many books, Steves advocates smart, affordable, perspective-broadening travel and is outspoken about his belief that travel is more a vital force for peace than ever. He says the most effective way individual Americans can contribute to our homeland security is "to travel a lot, learn about the world, come home and help the United States fit better into an ever-smaller planet." 
Steves took his first trip to Europe in 1969, visiting piano factories with his father, who was a piano importer. When he was 18 years old, Steves began traveling on his own, financing his trips by teaching piano lessons. 
"I realized I didn't need my parents to travel!" Steves jokes. 
Today, he spends about a third of his year in Europe, researching guidebooks, filming TV programs and making new discoveries for travelers. 
In 1976, Steves started Europe Through the Back Door (ETBD), a business in his hometown of Edmonds, Wash., that has grown from a one-man operation to a company with 80 full-time employees. It offers free travel information through its website, travel center and newsletters, and also runs a European tour program with more than 450 departures, attracting around 12,000 travelers a year.
The Rick Steves' Europe TV series currently is carried by over 300 stations, and his weekly public radio program Travel with Rick Steves airs across the country. 
Steves self-published the first edition of Europe Through the Back Door (now updated annually) in 1980. He has written more than 50 other books including Rick Steves' Italy, which has been the bestselling international guidebook sold in the U.S. for several years.
In 2009, Steves tackled a new genre of travel writing with Travel as a Political Act, reflecting on how a life of travel has broadened his own perspectives, and travel can be a significant force for peace and understanding in the world.