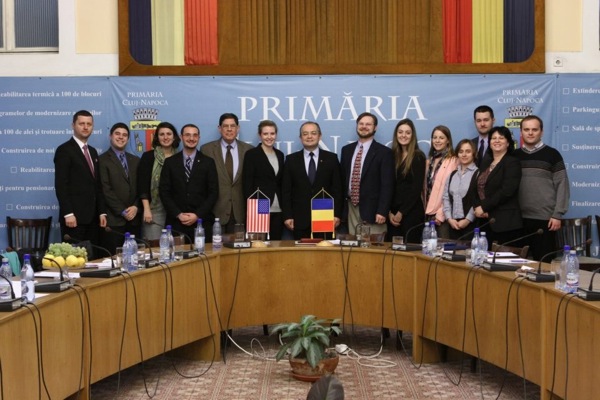 Research in Romania
Public policy graduate students join Romanians in unique research opportunity
8:19 a.m., Feb. 15, 2013--Eight graduate students in the University of Delaware's School of Public Policy and Administration spent part of Winter Session with 18 Romanian graduate students in a unique research opportunity made possible by a partnership with Babes-Bolyai University (BBU).
The master's students and doctoral candidates traveled with Arno Loessner, UD professor emeritus, to Cluj-Napoca, Romania, as part of the third winter study abroad group to partner with graduate students at Babes-Bolyai and conduct research on a variety of topics. 
Fulbright awards
Three University of Delaware students and an alumna have received word this spring that they will travel abroad as part of the newest class of Fulbright Student Program award winners.
Peace Corps plans
Two University of Delaware students, John McCarron and Bridgette Spritz, have been selected as Peace Corps volunteers and will serve in Ghana and Rwanda.
The winter program is the latest piece in an evolving partnership between the two institutions, launched in 2002 and continued through a variety of joint courses and other initiatives.
Loessner is also a member of the faculty at Babes-Bolyai University, where he chairs the international advisory board for the public administration program and teaches on occasion.
The UD-BBU research teams met with elected officials, government employees, private-sector leaders and nongovernmental organization (NGO) organizers to conduct research on topics of interest, following months of interactive communication between the UD students and their Romanian counterparts in a dual course on comparative public administration and public policy.
Groups studied the state of economic development in Cluj using the Nokia plant as a case study; the ability of the media to fulfill the watchdog ideal of journalism; the strength of the educational system across the country; the development of the NGO sector through the lens of assisted living and elder care; the progression of response protocol and support mechanisms for victims of domestic violence; the state of the health care industry; and the future of sustainable energy initiatives across Romania.
"Students gain an understanding of the importance of cultural factors in public administration and public policy, and learn to work together in a team to conduct research, report findings and propose workable solutions. In the process, most students report that they understand themselves and the situation at home in a new way," said Loessner, who has been involved with study abroad at UD for many years.
Students also had the opportunity to engage with faculty and graduate students at Babes-Bolyai, with doctoral student David Barnes leading a movie night discussion for students, and master's student David Karas being interviewed for a video segment about his experience in the journalism industry, to be used in journalism courses at the university. 
In his paper reflecting on the experience, Barnes wrote, "The benefit of this program is the extraordinary experience graduate students gain in field research. I believe that all 25 students will recall this class as one of the defining and most memorable projects of their entire academic life."
Such engagement highlights the mutual importance of the partnership for members of both institutions, and underlines the model of the program for study abroad initiatives.
The students were all enrolled in a dual course taught by instructors from both institutions – a model of collaborative study that organizers hope will continue, perhaps culminating in the opportunity for students to earn a dual degree and study at both universities.
Participants are now in the process of writing papers on their research to be considered for presentation at the annual conference for the Network of Institutes and Schools of Public Administration in Central and Eastern Europe (NISPAcee), to be held in May in Belgrade, Serbia.
Previous classes of students have presented at the annual conference, and papers written in past years have been published in a book by NISPAcee and Babes-Bolyai – an opportunity that is again available to students this year.
Kathryn Lonczewski, a second-year master's student and course participant, reflected on the lasting impact of the experience.
"Some of the benefits of my time in Romania will stay with me for the rest of my life," she wrote in an academic paper about the course. "Reflecting on my time in Romania, I took so much more from this experience than I had expected."
She continued, "The quality of the interviews as well as the discussions within our group gave me much to consider as I continue on in my studies. I am so appreciative of the work my team put towards our shared success. This project made me more eager to work on collaborative assignments, when I usually much prefer to work alone."