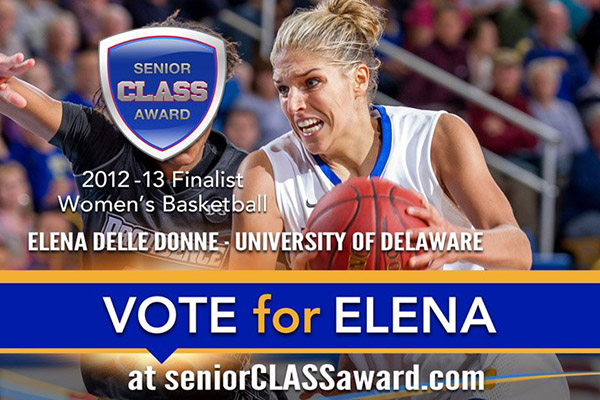 Senior CLASS Award
Hens invited to vote online for Delle Donne in award competition
10:47 a.m., Feb. 18, 2013--Senior Elena Delle Donne, an All-American on the University of Delaware women's basketball team, is one of 20 NCAA student-athletes who have been selected as finalists for the Senior CLASS Award.
An acronym for Celebrating Loyalty and Achievement for Staying in School, the Senior CLASS Award focuses on the total student-athlete and encourages students to use their platform in athletics to make a positive impact as leaders in their communities.
Rower honored
University of Delaware junior Claire Brown has been named second team Collegiate Rowing Coaches Association All-Region.
Unsung Hero
The One Love Foundation has announced that University of Delaware men's lacrosse standout Elijah Conte has been selected as a winner of the 2016 YRL Unsung Hero Award.
To be eligible for the award, a student-athlete must be classified as an NCAA Division I senior and have notable achievements in four areas of excellence including community, classroom, character and competition.
Nationwide fan voting is under way to help select the winner. Fans are encouraged to vote on the Senior CLASS Award website through March 25. Blue Hens fans can vote once each day until that date, and fan votes will be combined with media and Division I head coaches' votes to determine the winner.
The UD women's basketball team is 23-3 overall and 14-0 in the Colonial Athletic Association following a 69-55 victory over George Mason University on Tuesday in Fairfax, Va. The Hens have an 18-game winning streak.
Delle Donne, who earlier this season broke the conference career scoring record, is averaging 24.7 points per game.
UD has four CAA games remaining before the conference tournament. The Hens will host James Madison University on Feb. 24, play at Hofstra University on Feb. 28 and conclude the regular season with home games against Drexel University on March 3 and Georgia State University on March 6.
In the classroom, Delle Donne carries a 3.63 cumulative grade point average, is a consistent Dean's List student and was named the 2012 Capital One/CoSIDA Academic All-American of the Year for women's basketball.
She was also named the 2012 Colonial Athletic Association Female Scholar-Athlete of the Year and the 2012 CAA Women's Basketball Scholar-Athlete of the Year. Additionally, she is a four-time member of the CAA Academic Honor Roll.
Delle Donne earned the 2012 Honda Inspiration Award in recognition of commitment and courage in the face of adversity and overcoming hardship while excelling in her sport.
She is extremely active in numerous Delaware team community service activities, including visits to Nemours/A.I. duPont Children's Hospital and work with Delaware Special Olympics
The finalists were chosen by a media committee from the list of 30 men's candidates and 30 women's candidates announced in October.
The women's Senior CLASS Award winner will be announced during the NCAA Women's Final Four in New Orleans April 7 and 9. The men's winner will be announcing during the Men's Final Four in Atlanta April 6 and 8.
2012-13 Women's Senior CLASS Finalists
Brittany Chambers (Kansas State), Layshia Clarendon (Cal Berkeley), Elena Delle Donne (Delaware), Skylar Diggins (Notre Dame), Jacqui Kalin (Northern Iowa), Kevi Luper (Oral Roberts), Anna Martin (DePaul), Drey Mingo (Purdue), Chelsea Poppens (Iowa State), Jaime Printy (Iowa)
2012-13 Men's Senior CLASS Finalists
Matthew Dellavedova (Saint Mary's), Mike Groselle (The Citadel), Jordan Hulls (Indiana), Jonathan Lee (Northeastern), C.J. McCollum (Lehigh), Mike Muscala (Bucknell), Mason Plumlee (Duke), Peyton Siva (Louisville), Andrew Smith (Butler), Marc Trasolini (Santa Clara)