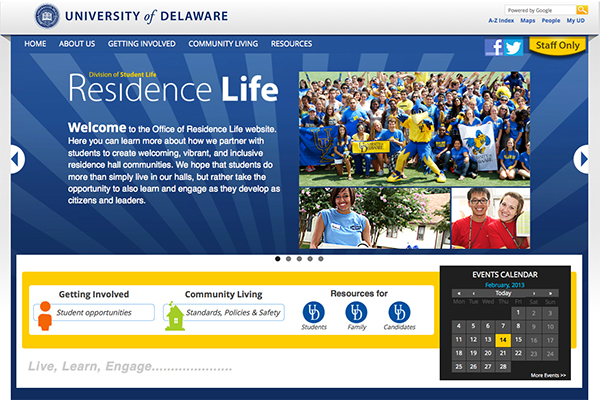 Residence Life site
New Residence Life website responds to the user's preferences
3:10 p.m., Feb. 14, 2013--The University of Delaware Office of Residence Life has a new website developed with a responsive web design concept that automatically responds to the user's preferences for personal computers, tablets or smart phones.
Notable atop the website's home page is a large area featuring coming events and ways to join Residence Life on Facebook and Twitter.
From graduates, faculty
As it neared time for the processional to open the University of Delaware Commencement ceremonies, graduating students and faculty members shared their feelings about what the event means to them.
Doctoral hooding
It was a day of triumph, cheers and collective relief as more than 160 students from 21 nations participated in the University of Delaware's Doctoral Hooding Convocation held Friday morning on The Green.
Kathleen Kerr, director of Residence Life, said that because the department's website serves students, families, the UD community, job candidates and Residence Life staff members, the design goal was to make searching the site an intuitive experience with easy access to information and contacts for addressing specific areas of concern.
"We wanted a visually fresh and exciting look, a web page that facilitated good communication, helped people connect to our social media feeds, was fun to use and useful to explore," Kerr said. "I think we have achieved that with this update." 
Kerr said the new website, where information will be highlighted and updated regularly, addresses Residence Life's mission to create vibrant and engaging living communities.
"It really is exciting to have a beautiful site that accurately shares with students and the rest of the UD community all of the wonderful things that happen in our residence halls to benefit our students," Kerr said. "The support of the Office of Communications and Marketing (OCM) and UD Information Technologies (IT) in completing the project was instrumental. They have been great partners throughout the project." 
The new website was created by David Barczak, senior art director, and Tracey Bryant, director of research, graduate and global communications, both with OCM; Jacob Schwarzinger, communications specialist, Residence Life; and Joe Kempista, interim director, and Christopher Leonard, web developer, both in IT Client Support and Services.
With an estimated three-quarters of Americans age 43 and under using smartphones, and more than 1.2 million mobile users accessing UD webpages over the last year, the use of responsive web design will continue to grow, Barczak said. 
"The responsive design works on personal computers and mobile devices, and it looks good on all sized screens," Barczak said. "The future is in responsive design, and this is what we are moving toward on campus when we design new websites."
Article by Jerry Rhodes