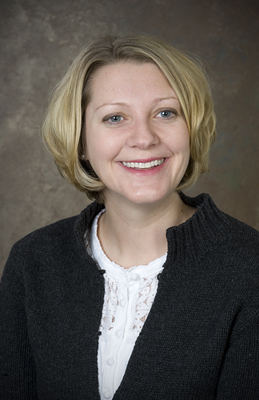 'Breaking Boundaries'
Communication journal focuses on work from UD conference
12:48 p.m., Feb. 1, 2013--The International Journal of Communication has published a special section in its Jan. 30 edition that is the result of a 2011 symposium at the University of Delaware on the topic of political entertainment.
The three-day symposium, "Breaking Boundaries," featured prominent scholars from disciplines such as cultural studies, political science and media studies. The new journal section, with the same title, is co-edited by Dannagal Young, assistant professor of communication at UD, and Jonathan Gray of the University of Wisconsin.
Chronic wounds
UD's Millicent Sullivan and Kristi Kiick have received a $1.4 million grant from the National Institutes of Health for research that could provide a new approach to the treatment of chronic wounds.
Prof. Heck's legacy
The American Chemical Society is highlighting the legacy of the late Nobel laureate Richard Heck, the Willis F. Harrington Professor Emeritus of Chemistry at the University of Delaware with a digital tribute on its publications website.
In addition to Young, scholars from UD who contributed essays to the journal are Lindsay Hoffman, assistant professor, and Paul Brewer, professor, both of communication. 
The 2011 conference was prompted by the recent increase in political satire, such as Jon Stewart's and Stephen Colbert's TV shows, and the fact that more Americans rely on such entertainment for their daily news. Those attending the conference worked to develop a plan for a groundbreaking, theoretically grounded, systematic study of how entertainment media relates to, informs and interacts with more traditional public affairs media in the area of politics. 
"Breaking Boundaries" was sponsored by the University's Center for Political Communication and was hosted by Young. It featured roundtable discussions on politics and entertainment and a keynote presentation by Joe Randazzo, editor of the satirical newspaper The Onion.
In the International Journal of Communication, editor Larry Gross describes the writers in the special section as "a collection of scholars whose work is leading the field of political entertainment studies" and says the essays "add to and move beyond the state of political entertainment research … by challenging readers to expand their thinking on these topics."