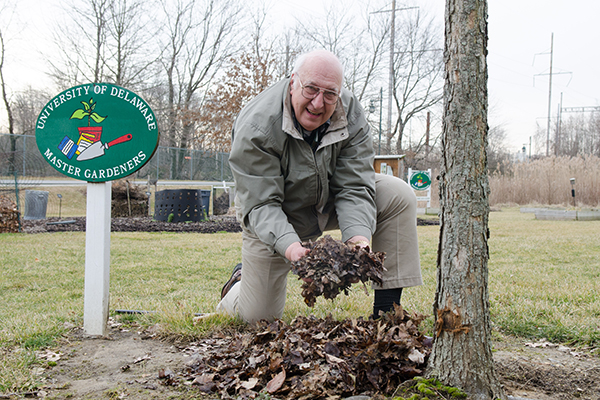 Native Delaware: Winter woes
Delawareans can takes steps to avoid winter plant damage
12:06 p.m., Feb. 18, 2013--People have been whining about the weather recently. We've dealt with high wind and rain from a nor'easter that walloped states to the north. We've had icy, sleety and snowy mornings -- not enough to close schools but enough to be an annoyance. We've seen Old Man Winter switch on and off, from artic conditions to spells of warmth.
If plants could whine, they would be whining right along with us. Winter can be a tough time on plants, especially young plants and those that were transplanted this year. Branches can break from ice, snow and wind; leaves can get dried and burnt from salt damage, roots pushed out of the soil from frost heave; and lack of moisture can cause plant tissues to suffer desiccation.
From graduates, faculty
As it neared time for the processional to open the University of Delaware Commencement ceremonies, graduating students and faculty members shared their feelings about what the event means to them.
Doctoral hooding
It was a day of triumph, cheers and collective relief as more than 160 students from 21 nations participated in the University of Delaware's Doctoral Hooding Convocation held Friday morning on The Green.
Unfortunately, we're not out of the woods yet – spring doesn't officially arrive until March 20. In fact, the waning days of winter can be the trickiest for plants, when it's common for temperatures to fluctuate wildly from day to day.
You can't do much to prevent some types of winter plant damage – like salt burn on shrubs by the street. Most road maintenance crews persist in using road salt, not eco-friendly alternatives such as sand or calcium chloride.
But other issues are avoidable, says Carrie Murphy, a University of Delaware horticulture agent. And even when damage occurs, it often can be fixed.
For example, in the case of salt burn, the effects can be minimized by flushing the plants in early spring. Apply two inches of water over a three-hour period and repeat three days later. This will leach much of the salt from the soil.
Avoiding winter damage starts by choosing the right plants for the right place. Think about overall conditions – how much sun, rain, wind and cold your plants will experience. Don't forget to factor in any specific microclimates within the yard, such as wet spots and windy areas.
"I have chosen plants for my garden that are fully hardy," says UD Cooperative Extension horticulture specialist Sue Barton. As a result, Barton's plants don't need a lot of help in winter. She waters all of her plants thoroughly in the fall, especially if it's been dry. She also rakes leaves into her landscape beds for a layer of protective mulch. Some years she loosely places evergreen boughs over top tender plants. 
Bob Lyons, director of UD's Longwood Graduate Program in Public Horticulture, also is a big fan of mulch and makes sure that his new plantings are covered with a blanket of it before winter winds blow.
If you didn't mulch in the fall and are worried about young plants, then get out there now – it's not too late, notes Murphy. Mulching reduces water loss and it also helps to prevent frost heave. 
When soil freezes and thaws in rapid succession, shallow-rooted plants can be pushed out of the ground. Mulching decreases frost heave by reducing the amount of alternate freezing and thawing that occurs.
Dick Pelly has been staffing the Master Gardeners' Garden Line since joining the group in 1999. In winter, he often gets asked what to do about branches that have broken off because of ice, wind or snow.
Pelly recommends removing the broken limbs as soon as conditions are safe and weather permits. Doing so helps the tree or shrub heal faster. Damaged trees are more prone to disease.  
Another question that frequently comes up is whether or not to wrap trees in burlap. Although Pelly doesn't use burlap in his own yard, he says it can be a good way to shield smaller trees, fruit trees and evergreens from cold temperatures and wind. In coastal areas, wrapping a tree can help reduce the damaging effects of salt spray.
Highway crews may use salt, but that doesn't mean you should use it on your sidewalks and driveway, notes Pelly. Eco-friendly and effective alternatives include sand, ashes and kitty litter.
Learn more
Those with questions about winter plant damage can call the Garden Line in New Castle County at 831-8862. In Kent, call 730-4000, and in Sussex, call 856-2585, ext. 535. A Master Gardener will return your call within 24 hours.
Article by Margo McDonough
Photo by Danielle Quigley