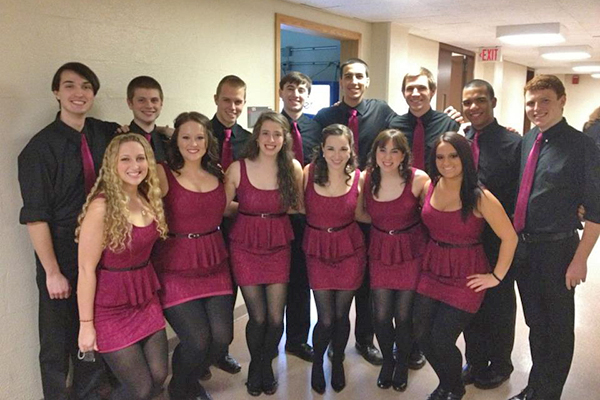 ICCA debut
UD's MelUDees co-ed a cappella group competes for first time at ICCA
11:25 a.m., Feb. 18, 2013--The University of Delaware's MelUDees co-ed a cappella group competed for the first time ever at the International Championship of Collegiate A Cappella (ICCA) Mid-Atlantic Quarterfinals at Rutgers University on Saturday, Feb. 9.
The competition included nine groups from schools in New Jersey, New York and Delaware. Among those groups was UD's Vocal Point, which placed first in the quarterfinal. Each group had a maximum of 12 minutes to perform a set of their choice. 
'Resilience Engineering'
The University of Delaware's Nii Attoh-Okine recently published a new book with Cambridge University Press, "Resilience Engineering: Models and Analysis."
Reviresco June run
UD ROTC cadets will run from New York City to Miami this month to raise awareness about veterans' affairs.
Neil Kirschling, the group's vice president, choreographed the MelUDees' competition set, which included a mash-up of Beyond the Sea by Frank Sinatra and Orange Colored Sky by Natalie Cole, Slow Me Down by Emmy Rossum and a Lady Gaga medley. 
"This was a totally new experience for us because we not only competed for the first time, but we also added choreography to our songs for the first time," Kirschling said. "It brought a whole new element to our group that we had only talked about before."
The MelUDees is comprised of 17 undergraduate singers from all different majors. They've performed in small concerts around campus, gone on tour to several schools in Washington, D.C., and performed at the Autism Speaks Walk in Philadelphia for the past three years. The group celebrates its seventh anniversary this spring.
Although the group did not advance to the semifinal, music director Heather Wadler said she was happy. Many of the group members' families and friends travelled to Rutgers to see them compete. 
"We just had so much fun performing," Wadler said. "It was an honor and a privilege to compete with such talented groups. I am very proud of the work we accomplished and the show we put on." 
A representative said, "The MelUDees extend their congratulations to Vocal Point and wish them the best of luck at the ICCA Mid-Atlantic Semifinal on March 30."
For more information about the MelUDees, visit the website.