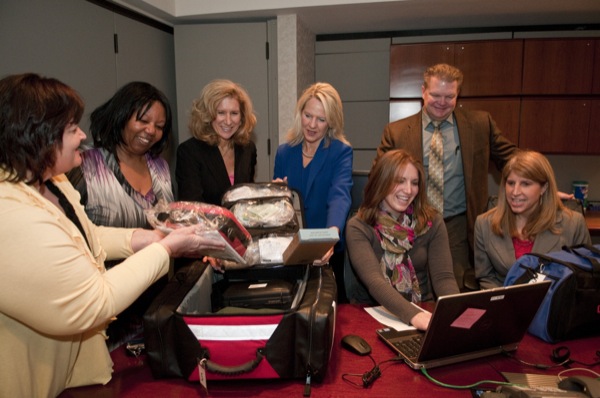 Helping out for health
Medical Reserve Corps is aimed at public health emergency preparedness
11:24 a.m., Feb. 11, 2013--Recent massive storms, mass shootings, and a major increase in early flu season cases are reminders of the need to be prepared for disasters.
Just weeks before Superstorm Sandy struck the Mid-Atlantic region with gale-force winds and devastating storm surges in October 2012, the University of Delaware was selected to recruit, credential, and train volunteers for the Delaware Medical Reserve Corps (DMRC). The $800,000 contract was awarded by the Delaware Department of Health and Social Services through its Division of Public Health.
From graduates, faculty
As it neared time for the processional to open the University of Delaware Commencement ceremonies, graduating students and faculty members shared their feelings about what the event means to them.
Doctoral hooding
It was a day of triumph, cheers and collective relief as more than 160 students from 21 nations participated in the University of Delaware's Doctoral Hooding Convocation held Friday morning on The Green.
"We got a baptism by fire with Sandy," says Bethany Hall-Long, professor in UD's School of Nursing and principal investigator of the DMRC contract. "Immediately after we received the award, we were up and running with seven shelters and 37 volunteers over a three-day period."
Added Kris Bennett, Division of Public Health nursing director, "The DMRC was an invaluable part of the state's ability to offer medical care in the American Red Cross Shelters during Sandy. They worked alongside the DPH staff nurses and helped provide much needed basic medical care."
Established nationwide in response to 9/11, the MRC plays an important role in marshaling volunteers not only to deal with emergencies but also to support a broad range of public health initiatives.
According to unit leader Ingrid Hansen, Delaware MRC volunteers include medical and public health professionals — physicians, nurses, pharmacists, dentists, and ancillary health care personnel — as well as other community members such as interpreters, chaplains, office workers, legal advisers, and others to augment medical personnel. 
Jane Craft, administrative assistant in the Department of Medical Laboratory Sciences at UD, and her husband have been non-medical MRC volunteers for the past three years.
"We've gone to several training sessions over the years in New Castle," she says. "I do this because it gives me an opportunity to get involved and help the community at large when there's a need for volunteers to aid county and state response teams."
Hall-Long sees the MRC contract as a logical next step in UD's strong disaster research, education, and service projects.
"The University has taken a leadership role in disaster planning," she says. "Here in the School of Nursing, we conduct semi-annual disaster drills in collaboration with community organizations, and we have a contract with the state to help long-term care facilities respond effectively to manmade and natural disasters. In addition, UD's Disaster Research Center is known throughout the world for its work in the social science aspects of these events."
Hansen points out that while disaster response tends to draw a lot of attention, the corps is also involved in many other public health initiatives, including vaccination clinics, health fairs, and other health promotion and education activities. 
"The DMRC volunteers helped us staff recent public health immunization clinics as we work to increase the number of people vaccinated against the flu," said Dr. Karyl Rattay, DPH director. "They're a part of our first line of defense in the community to reduce the impact of the current flu epidemic. I'm grateful to Dr. Hall-Long and the University for their commitment to a healthier Delaware." 
Hall-Long emphasizes that UD's involvement with the MRC provides learning opportunities for students and that the training delivered to volunteers is valuable for everyone in the community.
Wendy Wilkerson attended an intensive training session soon after she was hired to support administration of the MRC at the University.
"MRC training encompasses a wide variety of topics, including CPR-AED [automated external defibrillator], sheltering, emergency kit preparation, radiation, and fire," she says. "Anyone who undergoes the training will be prepared not only to assist others but also to help themselves."
For more information about MRC volunteer opportunities, contact Ingrid Hansen at 831-8368 or ingridh@udel.edu.
About the Medical Research Corps
Sponsored by the Office of the Surgeon General, the Medical Reserve Corps is a network of community-based units initiated and established to meet public health needs. It is charged with providing the structure necessary to pre-identify, credential, train, and activate medical and public health volunteers. Across the U.S., almost 1,000 MRC units coordinate the efforts of more than 200,000 volunteers.
Article by Diane Kukich 
Photo by Doug Baker