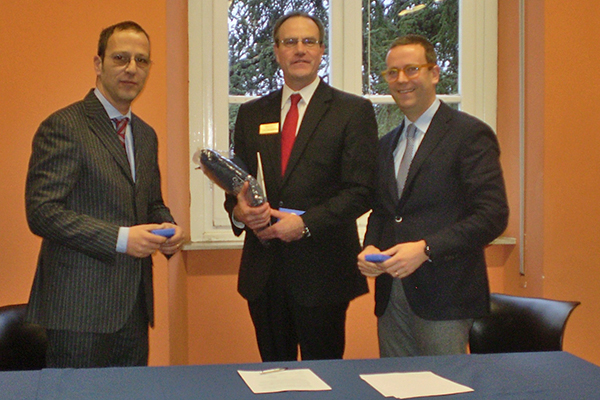 Hospitality certificate program
HRIM signs memorandum of agreement with Fondazione Campus
8:14 a.m., Feb. 21, 2013--The Department of Hotel, Restaurant and Institutional Management in the University of Delaware's Alfred Lerner College of Business and Economics has entered into a memorandum of agreement with the Fondazione Campus in Lucca to provide, through its Hospitality Associates for Research and Training (HART), an International Hotel Management Certificate Program.
"The agreement is achieved as a result of many years of HRIM's study abroad programs to Italy," said Ali Poorani, associate professor of HRIM and director of HART. "In addition to this agreement, HART has provided a number of valuable consulting projects within the last 10 years bringing Italian and Delaware businesses together."
Fulbright awards
Three University of Delaware students and an alumna have received word this spring that they will travel abroad as part of the newest class of Fulbright Student Program award winners.
Peace Corps plans
Two University of Delaware students, John McCarron and Bridgette Spritz, have been selected as Peace Corps volunteers and will serve in Ghana and Rwanda.
Frederick DeMicco, ARAMARK Chair in Hotel, Restaurant and Institutional Management, added that the agreement further solidifies the international offerings of the HRIM program.
"The agreement with the Fondazione Campus in Lucca forms a trilogy of significant events that HRIM has been working on for several years," said DeMicco. "These three elements include longstanding UD Institute for Global Studies study abroad programs to Tuscany; the tie to the new Marriott Renaissance Hotel in Tuscany managed by our UD partner, the Shaner Hotel Group and the student summer internships in Tuscany; and now the first of its kind, the international certificate program in association with the Fondazione Campus."
Certificate programs are popular in Italy as international hotel brands and chains move aggressively to expand in the country. Currently, about 90 percent of the hotels in Italy are independently owned and many are family owned for generations. 
But the landscape is changing rapidly as global hotel companies like Marriott International expand their hotel portfolios and travelers seek internationally branded hotels.
Sheryl Kline, chair of the Department of Hotel, Restaurant and Institutional Management, called the agreement "a very exciting opportunity to expand the department's international involvement."
"Italy is in the top five tourist destinations for Americans traveling abroad," said Kline. "This management training program will have a positive impact on future hotel managers and hospitality professionals in this popular travel destination."
About Fondazione Campus
The Fondazione Campus in Lucca provides university teaching, research and advanced specialized training in tourism and business management as well as in engineering and architecture with a focus on conservation and promotion of cultural heritage.
It offers degree courses internationally and in partnership with other universities, including the Universities of Pavia, Pisa and Italian Switzerland. Other areas include a School of Management; a Centre for Study and Research; the Engineering, Architectural and Cultural Heritage School; a Language School; and the Golf and Tourism Academy, run in conjunction with the Italian Golf Federation.