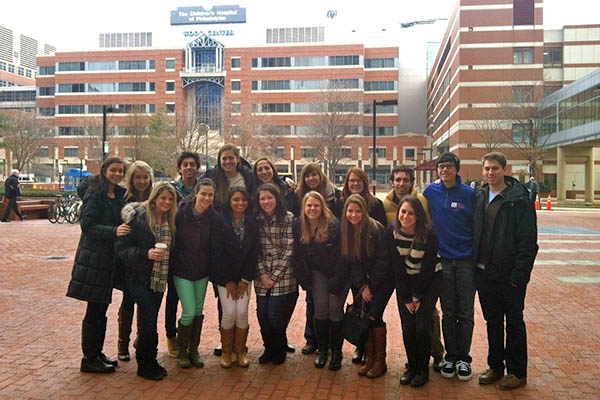 You're not alone
UD freshman is activist for those with Crohn's and colitis
10:27 a.m., Feb. 13, 2013--Catherine Hartman is only 18 years old, but she has already testified before Congress three times as the result of an illness diagnosed when she was just 10.
The University of Delaware freshman has Crohn's disease, a chronic inflammatory condition of the gastrointestinal tract, and she was recently selected to serve on the National Council of College Leaders (NCCL) of the Crohn's and Colitis Foundation of America (CCFA). The 18 council members from colleges across the country recently met in Philadelphia for a three-day retreat.
'Resilience Engineering'
The University of Delaware's Nii Attoh-Okine recently published a new book with Cambridge University Press, "Resilience Engineering: Models and Analysis."
Reviresco June run
UD ROTC cadets will run from New York City to Miami this month to raise awareness about veterans' affairs.
"We had a packed agenda and got a lot done," Hartman says.  "But we also had time to share our stories with each other."
Sharing stories is an important part of Hartman's personal agenda. "Our goal is to raise awareness," she says. "We want to let people with Crohn's know that they're not alone and that there are resources to help them."
Although the disease can be debilitating, Hartman has never let it slow her down.  After her diagnosis, she almost immediately became an activist, making bracelets to sell at school, giving speeches, and serving on panels.
"Although having Crohn's disease can be a challenge, it's also been a great learning experience for me," Hartman says.  "I've met people I never would have met and done things I never would done otherwise."
As with many people who are diagnosed with Crohn's at a young age, Hartman's career path has been shaped by the disease. An exercise science major, she plans to enter a physical therapy or physician assistant program after she completes her bachelor's degree. "That's pretty common," she says. "Most people on the panel are planning to go into some aspect of the medical field."
She still has more than three years left at UD — which is more than enough time for this energetic young woman to have an impact.
"I'd like to start a support group and just generally raise awareness of the disease," she says. "Most of all, I want to let other people with Crohn's and colitis know that they're not alone."  Hartman also plans to form a team to participate in the CCFA Take Steps Walk to be held in Wilmington, Del., on May 4.
One valuable resource for college students is a new interactive website, CCFA Campus Connection. The online community connects students living with Crohn's or ulcerative colitis to others who have successfully transitioned to college life, provides tips for adjusting to a new environment, and informs students about how they can participate in local chapter events and become advocates for CCFA. 
For more information, contact Hartman by email at cathart@udel.edu.
About the Crohn's and Colitis Foundation of America
The Crohn's and Colitis Foundation of America (CCFA) is a non-profit, volunteer-driven organization dedicated to finding cures for Crohn's disease and ulcerative colitis. Since its founding over four decades ago, CCFA has remained at the forefront of research in Crohn's disease and ulcerative colitis.
Today, the organization funds cutting-edge studies at major medical institutions, nurtures investigators at the early stages of their careers, and finances underdeveloped areas of research.
In addition, educational workshops and programs, along with a scientific journal, Inflammatory Bowel Diseases, enable medical professionals to keep pace with this rapidly growing field. The National Institutes of Health has commended CCFA for "uniting the research community and strengthening IBD research."
National Youth Leadership Council
The National Council of College Leaders (NCCL) works to increase awareness of Crohn's disease and ulcerative colitis through youth-focused advocacy and fundraising. Youth leaders become advocates for patients through local and national campaigns.
Council members also identify new fundraising opportunities on their campus and are responsible for meeting a minimum fundraising goal each year, while supporting and increasing support for existing programs. NCCL members will develop leadership skills and prepare for even larger roles as advocates for people with Crohn's disease and ulcerative colitis.
Article by Diane Kukich