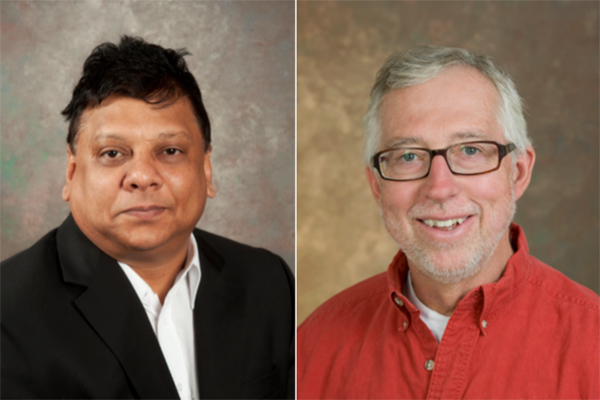 For the Record, Feb. 8, 2013
University faculty report recent international scholarship, presentations
9:48 a.m., Feb. 8, 2013--For the Record provides information about recent professional activities of University of Delaware faculty, staff, students and alumni.
Recent announcements, international scholarship, presentations and publications include the following:
From graduates, faculty
As it neared time for the processional to open the University of Delaware Commencement ceremonies, graduating students and faculty members shared their feelings about what the event means to them.
Doctoral hooding
It was a day of triumph, cheers and collective relief as more than 160 students from 21 nations participated in the University of Delaware's Doctoral Hooding Convocation held Friday morning on The Green.
Announcements
The College of Arts and Sciences has announced two new department chairs, both effective in January. Kai Draper, who focuses on ethics and the philosophy of law, is chair of the Department of Philosophy, and Lawrence Nees, who studies art of the early Middle Ages, is chair of the Department of Art History.
International scholarship
David Shearer, professor of history, spent the month of January as an invited scholar at the Ecole des Hautes Etudes en Science Sociales, in Paris. While in France, he organized an archival workshop for dissertation students, and he gave five lectures: "State Violence in the Soviet Union from the 1920s through the 1950s: Issues of Genocide, Modernity, and Social Engineering," "Informants, Social Surveillance, and Policing the Population in the Soviet Union under Stalin," "Foreign Explorers in Central Asia, from the 1870s to 1930," "Russia/Soviet Union, Central Asia, and the Question of Orientalism," and "The Foreign Construction of Central Asia in the 19th and 20th Centuries." In addition, on Jan. 22, Shearer gave an invited lecture on "Stalinism, Repression, and Social Governance" at the Center for East European and Eurasian Studies at the University of Uppsala, in Uppsala, Sweden.
Srikanth Beldona, associate professor and director of graduate studies in the Department of Hotel, Restaurant and Institutional Management, delivered the BL Club lecture sponsored by the Department of Commerce at Manipal University in India. He discussed "Marketing Financial Products During Recession."
Presentations
Gregg Silvis, associate university librarian, Information Technology and Digital Initiatives, University of Delaware Library, participated in a panel presentation "Improving Information Discovery: A Conversation with Librarians" sponsored by the National Federation of Advanced Information Services (NFAIS), Nov. 30, 2012, Philadelphia.
Publications
Margaret D. Stetz, Mae and Robert Carter Professor of Women's Studies and professor of humanities, contributed an essay to Gertrude Käsebier: The Complexity of Light and Shade (2013), edited by Stephen Petersen and Janis A. Tomlinson. This volume, published by the University Museums and distributed by the University of Delaware Press, accompanies the exhibition of Käsebier's photographs currently at UD's Old College Gallery. Stetz's essay, "Gertrude Käsebier in Context: The Feminist Politics of Modernity and Maternity," explores the pioneering American photographer's work in relation to turn-of-the-century debates about women's roles as mothers and as artists.
Suzanne L. Burton, professor in the Department of Music, and Swedish colleagues from Orebro University, Maria Westvall and Samuel Karlsson, have published an article titled "Stepping Aside from Myself: Intercultural Perspectives on Music Teacher Education" in the refereed Journal of Music Teacher Education.
To submit information to be included in For the Record, write to ud-ocm@udel.edu.