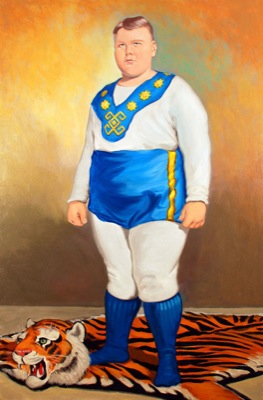 For the Record, Feb. 1, 2013
University faculty report recent presentations, publications
11:09 a.m., Feb. 1, 2013--For the Record provides information about recent professional activities of University of Delaware faculty, staff, students and alumni.
Recent awards, exhibitions, presentations and publications include the following:
From graduates, faculty
As it neared time for the processional to open the University of Delaware Commencement ceremonies, graduating students and faculty members shared their feelings about what the event means to them.
Doctoral hooding
It was a day of triumph, cheers and collective relief as more than 160 students from 21 nations participated in the University of Delaware's Doctoral Hooding Convocation held Friday morning on The Green.
Awards
Matthew Weitzman, a doctoral student in biological sciences, has received a Minority Affairs Committee Travel Award to attend the Biophysical Society's 57th annual meeting, Feb 2-6, in Philadelphia. Recipients of the awards, which are meant to encourage participation at the meeting by minority students and postdoctoral fellows, will be honored at a reception on Saturday, Feb. 2. The society is a professional, scientific association with 9,000 members in the U.S. and internationally that promotes the development and dissemination of knowledge in the expanding field of biophysics.
Exhibitions
David Brinley, assistant professor of art and a 2012 recipient of a Delaware Division of the Arts Individual Artist Fellowship in painting, will present an exhibition of his work from Feb. 1-22. The exhibit, "Circumventions," will be displayed in the division's Mezzanine Gallery in the Carvel State Office Building, 820 N. French St., Wilmington, with an opening reception from 5-8 p.m. Friday, Feb. 1, as part of the city's Art Loop. The gallery is open weekdays from 8 a.m. to 4:30 p.m. The fellowships recognize artists for the high quality of their work in the visual arts, literature, music, jazz composition and crafts. 
Presentations
Farley Grubb, professor of economics, presented "Legal Tender Laws: The Core Conflict over Money Creation in the Constitutional Era," in the Columbia Law School Seminar Series on Modern Money and Public Purpose, Jan. 25, New York City.
Chandra L. Reedy, professor in the School of Public Policy and Administration, Center for Historic Architecture and Design, and Asian Studies was interviewed for a podcast on her research with thin section petrography for conservation, posted on Jan. 15 by the National Center for Preservation Technology and Training and available online.
Publications
Rudi Matthee, John and Dorothy Munroe Professor of History, published "Safavid Iran though the Eyes of European Travelers," Harvard Library Bulletin 23:1-2 (2012), special issue titled "From Rhubarb to Rubies: European Travels to Safavid Iran (1550-1700), and "The Land of the Sophi: Iran in Early Modern European Maps (1550-1700)."
Margaret D. Stetz, Mae and Robert Carter Professor of Women's Studies and professor of humanities, is the author of an essay titled "Feminist Politics and the Two Irish 'Georges': Egerton vs. Shaw," a study of the playwright George Bernard Shaw's tumultuous relationship with the late-Victorian feminist writer, Mary Chavelita Dunne, whose pseudonym was George Egerton. The essay was published in December 2012 in Shaw and Feminisms: On Stage and Off, a volume edited by D.A. Hadfield and Jean Reynolds, Gainesville: University Press of Florida, 2013.
To submit information to be included in For the Record, write to ud-ocm@udel.edu.