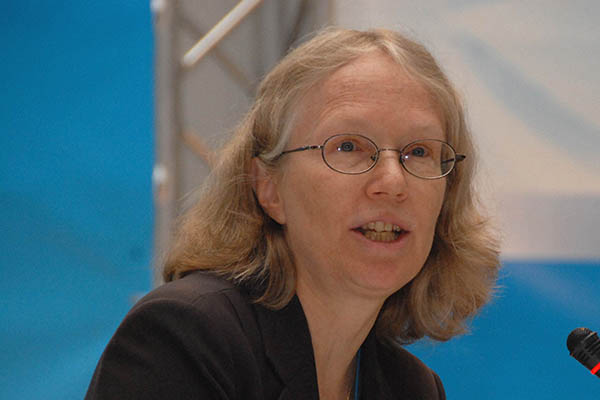 March 12: DENIN Research Symposium
Third DENIN Research Symposium to focus on sea level rise in Delaware
1:55 p.m., Feb. 28, 2013--The Delaware Environmental Institute's (DENIN) third research symposium, titled "Coastal Consequences: Sea Level Rise in Delaware," will take place on Tuesday, March 12, from 8 a.m.-5:30 p.m. at the University of Delaware's Clayton Hall Conference Center in Newark.
The keynote speaker for the event will be Cynthia Rosenzweig, senior research scientist at the Goddard Institute for Space Studies at Columbia University. At Goddard, she leads the Climate Impacts Group, whose mission is to investigate the interactions of climate (both variability and change) on systems and sectors important to human well-being. 
Chronic wounds
UD's Millicent Sullivan and Kristi Kiick have received a $1.4 million grant from the National Institutes of Health for research that could provide a new approach to the treatment of chronic wounds.
Prof. Heck's legacy
The American Chemical Society is highlighting the legacy of the late Nobel laureate Richard Heck, the Willis F. Harrington Professor Emeritus of Chemistry at the University of Delaware with a digital tribute on its publications website.
She was the lead scientist on the New York City Department of Environmental Protection Climate Change Task Force, which has advised Mayor Michael Bloomberg about possible impacts from climate change and actions that may be needed to adapt.
Other featured presentations include Susan Love of DNREC's Coastal Programs speaking about Delaware's recently published Sea Level Rise Vulnerability Assessment Report and a panel of Delaware coastal stakeholders who are dealing with the effects of storms and sea level rise, moderated by David Ledford, executive editor of the Wilmington News Journal. The panel will include Delaware Department of Natural Resources and Environmental Control (DNREC) Secretary Collin O'Mara.
The symposium is combined with the annual meeting for Delaware's Experimental Program to Stimulate Competitive Research (EPSCoR), a research infrastructure development program sponsored by the National Science Foundation. Faculty and student investigators who have conducted research supported by EPSCoR are invited to display posters about their projects throughout the day. Sean Kennan, program director at NSF EPSCoR, will attend the meeting to provide program updates and directions. 
Participants should register online for this free event, which includes continental breakfast, lunch and afternoon reception. For a more complete description of the agenda and speakers, see the symposium website.
The DENIN Research Symposium is part of the "Challenges and Choices" series of events being sponsored by DENIN in 2013 to focus attention on four major environmental challenges facing Delaware: sea level rise and extreme weather events, food and water security, land use and energy.
Article by Beth Chajes