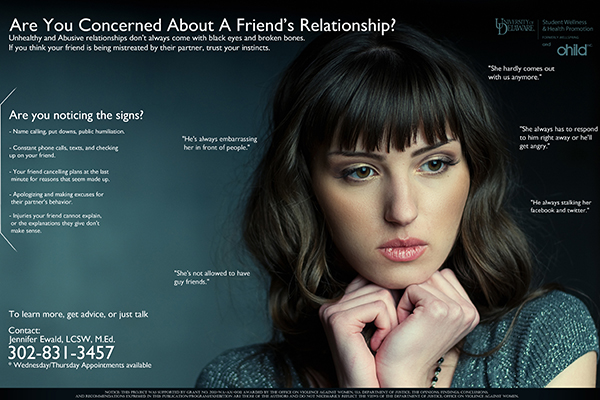 Intimate partner violence assistance
Student Wellness and Health Promotion provides new counseling service
2:30 p.m., Feb. 18, 2013--University of Delaware Student Wellness and Health Promotion has contracted with Child Inc., a local non-profit organization, to provide intimate partner violence counseling for UD students this spring semester.
Any students who are interested in the service can participate in individual or group counseling sessions by calling Student Wellness and Health Promotion at 302-831-3457to schedule an appointment. 
June 6: UDid It! Picnic
All UD faculty and staff members are invited to attend the annual UDid It! employee appreciation picnic, set from 11 a.m.-1:30 p.m., Monday, June 6, on The Green.
2FA protects you
If you are using two-factor authentication (2FA), even if a hacker has your password, your information is probably safe.
Jennifer Ewald, a licensed clinical social worker specializing in dating violence at Child Inc., will be on campus 12 hours a week providing accessible counseling to students in the UD community.
"Sometimes, victims of intimate partner violence are suffering alone and do not know who to reach out to," said Ewald. "Community resources are great but a lot of students don't have cars, are not from the area or feel that community resources are for older people. So we want to provide a service that is right at their fingertips."
Ewald said she hopes to "bring the topic of intimate partner violence to the forefront" and promote open discussion.
"If any students don't feel comfortable making an actual counseling appointment, they can still come talk to me and ask questions," said Ewald. "I just want students to know that the resource is available and I'm open to conversation." 
The group, which will be held on Wednesday evenings from 6-8 p.m., will last for eight weeks and will focus on how to foster and maintain healthy relationships. Interested students can make an appointment to learn more.
This service is funded by the federal Violence Against Women Act (VAWA) campus grant, a consortium project involving the University of Delaware and Delaware State University. 
"The purpose of the grant is to reduce sexual assault, domestic violence, dating violence and stalking," said Ewald. 
For questions or to schedule an appointment, contact Student Wellness and Health Promotion at 302-831-3457.