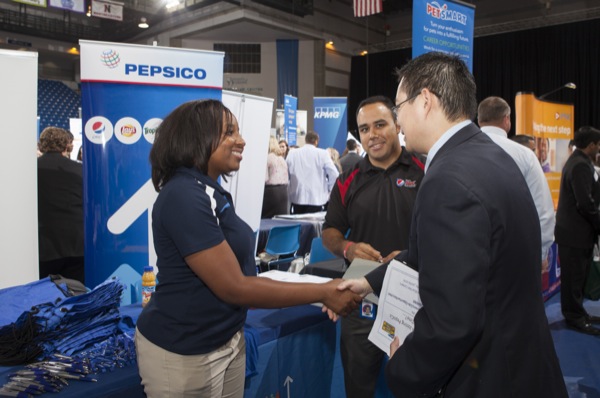 Career Services events
UD Career Services Center announces spring career fairs
11:20 a.m., Feb. 13, 2013--The University of Delaware Career Services Center -- with a mission to empower UD students to "explore, experience and excel" -- has announced four career fairs during the spring semester.
The events include a Spring Career Fair, a Multi-Ethnic Career Development Conference and Diversity Career Fair, a College of Arts and Sciences Career Networking Night and a Project Search Career Fair.
From graduates, faculty
As it neared time for the processional to open the University of Delaware Commencement ceremonies, graduating students and faculty members shared their feelings about what the event means to them.
Doctoral hooding
It was a day of triumph, cheers and collective relief as more than 160 students from 21 nations participated in the University of Delaware's Doctoral Hooding Convocation held Friday morning on The Green.
Events are scheduled as follows:
Spring Career Fair, noon-3:30 p.m., Wednesday, Feb. 27, Bob Carpenter Center. The largest career fair of the semester will feature opportunities for full-time employment, part-time employment, summer internships, volunteer positions and on-campus opportunities. This year's fair has been expanded to included organizations specifically interested in hiring engineering and science and technology majors.
Multi-Ethnic Career Development Conference and Diversity Career Fair, 9 a.m.-4 p.m., Saturday, March 2, Clayton Hall Conference Center, Laird Campus. The fair is designed to engage students before graduation as they begin to plan and pursue fulfilling careers, and the conference connects students with the resources, alumni and employers to help them reach those goals. After learning about what career opportunities are available, participants can attend a career development conference to sharpen up their skills and increase their chances of obtaining a position. Open to UD students only. Registration deadline is Feb. 25.
College of Arts and Sciences Career Networking Night, 6-7:30 p.m., Thursday, March 7, Multipurpose Rooms A and B, Trabant University Center. The fair will bring together notable leaders and alumni from nonprofit, government, communication and research organizations for a night of career conversations and networking.
Project Search Education Career Fair, 8 a.m.-6 p.m., Wednesday, April 17, Bob Carpenter Center. Project Search provides an opportunity for education majors and those in education related fields to interact with school district and employer representatives. The event brings recruiters to campus to meet and interview prospective teachers, counselors, administrators and specialists for vacancies in the upcoming school year. Note that all attendees must pre-register.
Log in to the Blue Hen Careers jobs portal to RSVP.
For more information, visit the Career Services Center career fairs website. 
Article by Karoline Guerrero
Photo by Ambre Alexander