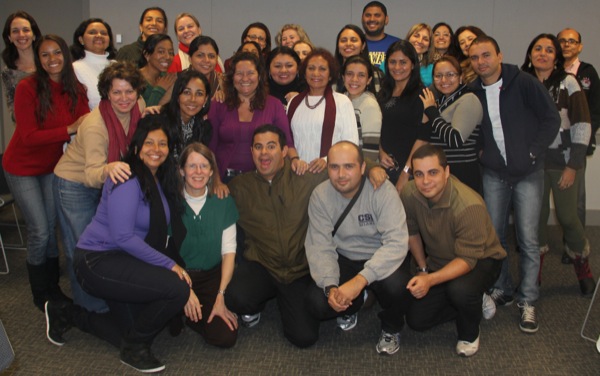 Brazil English Teachers Program
UD provides intensive language instruction to Brazilian teachers in new initiative
2:27 p.m., Feb. 1, 2013--What do snow, winter clothes, flash cards and baked potatoes all have in common? 
They're among the new experiences noted by the 32 English teachers from Brazil who are improving their language and teaching skills in a new six-week professional development program supported by the Brazilian government at the University of Delaware's English Language Institute (ELI). 
Fulbright awards
Three University of Delaware students and an alumna have received word this spring that they will travel abroad as part of the newest class of Fulbright Student Program award winners.
Peace Corps plans
Two University of Delaware students, John McCarron and Bridgette Spritz, have been selected as Peace Corps volunteers and will serve in Ghana and Rwanda.
UD is one of 18 universities across 15 states to be selected for the Brazil English Teachers Program, which will bring more than 1,000 teachers per year to the U.S. for intensive English language and teacher training over the next three years. 
The program is a collaboration between the Institute of International Education (IIE) and Brazilian sponsor CAPES, a foundation within the Ministry of Education whose purpose is to improve the quality of Brazil's faculty and staff in higher education through grant programs, the Fulbright Commission in Brazil and the U.S. Embassy in Brazil.
In addition to providing the teachers from Brazil with intensive language instruction, UD's ELI faculty also will conduct a series of teacher training workshops in current and new methods of Teaching English as a Foreign Language.
The Brazilian teachers also will go on field trips to meet with Delaware teachers, visit major historic and cultural sites in the region, make presentations at senior centers and Boys and Girls Clubs, and meet with community groups such as People to People International, which was founded in 1956 by President Dwight Eisenhower to promote peace.  
"We want these teachers to have the full spectrum of educational and cultural experiences while they are here," said Baerbel Schumacher, who, as administrative coordinator, is complementing the efforts of the program's academic coordinator Sarah Petersen.
The Brazilian government is making a major push to increase the nation's level of English fluency at a time when Brazil's economy is expanding rapidly, and Brazil and the United States are forging unprecedented ties in trade, energy and scientific development, according to IIE President Allan E. Goodman. 
"This new teacher training program will not only benefit teachers and students in Brazil, but will also help to build the pipeline for more exchanges in future years," Goodman said. 
The 32 participating teachers at UD represent cities and towns across Brazil, with populations ranging from a few thousand people to several million.
For Tarsila Ferreira, who teaches English to teenagers at a school in Belém, the visit has been invaluable and unforgettable. 
"To stay here is a great experience," said Ferreira, who has been studying English for 12 years. She's been intrigued by new teaching approaches she can use in the classroom, as well as by American food. She'd never eaten a baked potato before.
However, the recent icy winter weather has been a shocker. 
"We've never worn sweaters before or seen snow," she explained. 
Ferreira said she looks forward to sharing her experiences with other teachers back home and, of course, with her students. 
"I am learning new things here that will impress them and help them to learn," she noted. 
The English Language Institute also recently hosted a program of intensive instruction for teachers of English from Japan. The Japanese Ambassador to the United States, Ichiro Fujisaki, visited the University this past fall to meet informally with participating teachers.
Article by Tracey Bryant