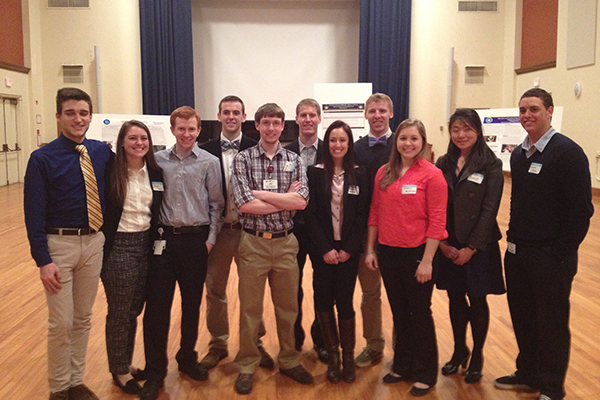 Open heart opens minds
UD biomedical engineering students shadow health care professionals
10:17 a.m., Feb. 8, 2013--James Manning stood on a stool in an operating room and watched a patient's heart beat.
It's an experience the University of Delaware biomedical engineering student called "humbling" and definitely not what he expected when he signed up for the course Clinical Immersion Experience (BMEG 367) this Winter Session.
From graduates, faculty
As it neared time for the processional to open the University of Delaware Commencement ceremonies, graduating students and faculty members shared their feelings about what the event means to them.
Doctoral hooding
It was a day of triumph, cheers and collective relief as more than 160 students from 21 nations participated in the University of Delaware's Doctoral Hooding Convocation held Friday morning on The Green.
The course, offered in partnership with clinicians and professionals at Christiana Care Health System, Nemours/Alfred I. duPont Hospital for Children and the Infant Behavior Laboratory at UD's Early Learning Center, enabled aspiring biomedical engineers to shadow health care professionals, observe clinical practices and identify unmet clinical needs.
"Students got a first-hand glimpse of the biomedical engineering challenges that are available in medicine for them to solve," commented Dawn Elliott, biomedical engineering program director, who teamed up with partners of the Delaware Health Science Alliances (DHSA) to implement the innovative course. 
Nicholas J. Petrelli, M.D., Bank of America-endowed medical director of Christiana Care's Helen F. Graham Cancer Center, said he jumped at the chance to participate in the program, describing it as a "unique opportunity to take a group of highly motivated, extremely bright students and expose them" to a health care environment.
"What better place for biomedical students to think outside the box and potentially come up with solutions to every day scenarios for the treatment of patients," Petrelli said.
Manning, who shadowed a Christiana Care cardiologist and witnessed several surgeries, agreed. "The amount of information clinicians go through before making a decision is daunting," he said. 
"I learned the importance of questioning people who are actively involved in the problem you are trying to solve, something I might not have previously considered."
As part of the experience, students were asked to develop a design idea to assist professionals in the field, according to Jill Higginson, associate professor of mechanical engineering and director of the Center for Biomedical Engineering Research, who launched the class.
They presented their research ideas to participating faculty and industry sponsors at Nemours/Alfred I. duPont Hospital for Children on Jan. 31 during a poster session funded in part by DHSA.
"It was amazing to me how quickly the students grasped some of the problems and also had potential solutions to those problems," Petrelli remarked on viewing the UD students' posters. 
DHSA partners involved in the student immersion program included the:
Cardiovascular Clinical Trials Program at Christiana Care;
Center for Pediatric Clinical Research and Development at Nemours/Alfred I. duPont Hospital for Children;
Cerebral Palsy Program at Nemours/Alfred I. duPont Hospital for Children;
Helen F. Graham Cancer Center at Christiana Care;
Infant Behavior Lab, Department of Physical Therapy at UD; and
Pediatric Engineering Research Lab at Nemours/Alfred I. duPont Hospital for Children.
About DHSA
The Delaware Health Sciences Alliance was established in 2009 with four founding partners — Christiana Care Health System, Nemours/Alfred I. duPont Hospital for Children, Thomas Jefferson University, and the University of Delaware.
The alliance enables partner organizations to collaborate and conduct cutting-edge biomedical research, to improve the health of Delawareans through access to services in the state and region, and to educate the next generation of health care professionals.
DHSA's unique, broad-based partnership focuses on establishing innovative collaborations among experts in medical education and practice, health economics and policy, population sciences, public health, and biomedical sciences and engineering.