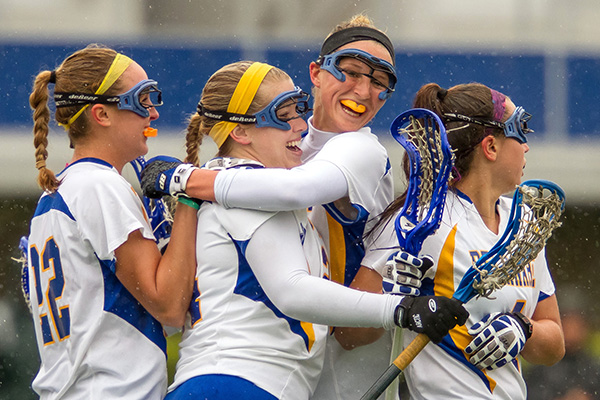 Alumni activities
Blue Hens invited to cheer on basketball, lacrosse teams
8:47 a.m., Feb. 1, 2013--Blue Hens in New England are invited to cheer on the University of Delaware men's basketball team when it takes on Northeastern University at Matthews Arena in Boston.
The game will be played at 7 p.m., Wednesday, Feb. 13. UD alumni can get discounted tickets and bring the whole family to cheer on the Hens.
'Resilience Engineering'
The University of Delaware's Nii Attoh-Okine recently published a new book with Cambridge University Press, "Resilience Engineering: Models and Analysis."
Reviresco June run
UD ROTC cadets will run from New York City to Miami this month to raise awareness about veterans' affairs.
For details or to register, click here.
Also, alumni are invited to a women's lacrosse "ice breaker" reception to be held Saturday, Feb. 16, in the Bob Carpenter Center.
The women's lacrosse team, coached by UD alumnus Kateri Linville, will take on Georgetown University at noon at Delaware Stadium. A men's game against Loyola University will follow at 3 p.m.
Other UD alumni activities are scheduled as follows:
Tuesday, Feb. 5, 6 p.m.: "Baking with Bacon" cooking demonstration. UD alumnus Dana Herbert of Desserts by Dana, winner of the 2010 Cake Boss: The Next Great Baker television show on TLC, will offer a cooking demonstration for alumni at Marriott's Courtyard Newark-University of Delaware.
Thursday, Feb. 7, 5:30 p.m.: Bowling in Reading. UD alumni can shake off the winter blues with a night at the bowling alley in the Reading area. There will be pizza, soft drinks, prizes and more.
Friday, Feb. 8, 10 a.m.: Winter Lecture Series. Alumni 50 and older are invited to attend a lecture on "Behind the Scenes at the Opera" sponsored by the Osher Lifelong Learning Institute at the University of Delaware in Rehoboth Beach.
Friday, Feb. 15, 6 p.m.: Phoenix happy hour. UD alumni will hold a happy hour event at Dave and Busters in Phoenix at which they can meet UD Alumni Relations staff and reminisce with fellow UD graduates about life back on campus. Friends and families are welcome.
Tuesday, Feb. 19, 5 p.m.: Philadelphia happy hour. The Philadelphia Alumni Club will sponsor happy hour and Quizzo at Cavanaugh's Rittenhouse.
Wednesday, Feb. 20, 6:30 p.m.: Washington, D.C. Alumni Club town hall meeting. The Washington, D.C., Alumni Club will hold a town hall meeting at which Blue Hens can get to know fellow alumni and D.C. alumni club board representatives over drinks and snacks. There will be an open discussion about the future direction of the club. Alumni are invited to share ideas and offer feedback.
Saturday, Feb. 23, 8:15 a.m.: Lancaster alumni at the Barnes Foundation. Lancaster, Pa., area alumni are invited to enjoy a day at the Barnes Foundation in Philadelphia. Price includes admission to the museum and round-trip bus transportation from Lancaster.
Saturday, Feb. 23, 3:30 p.m.: Baltimore alumni at The Brewer's Art. Baltimore alumni will get together for a tour and tasting at The Brewer's Art.
Tuesday, Feb. 26, 6 p.m.: An Evening of Conversations and Connections with New York City Alumni. Alumni, students and friends will gather at this second annual Evening of Conversations and Connections event in New York City. Those who attend can meet and learn from successful UD alumni and expand their professional networks. The evening's theme, "Lessons in Global Strategies," will feature an interactive discussion focused on the ever-increasing importance of engaging in worldwide business and communications across all industries.
Saturday, March 2, 4 p.m.: Seattle Blue Hens happy hour. Join UD graduates in Seattle at Delaware native Chef Tom Douglas' establishment, the Brave Horse Tavern, for drinks, complimentary appetizers and good times.
The Office of Alumni Relations recognizes and thanks the UD Alumni Association for its support of several of these events.
Photo by Mark Campbell