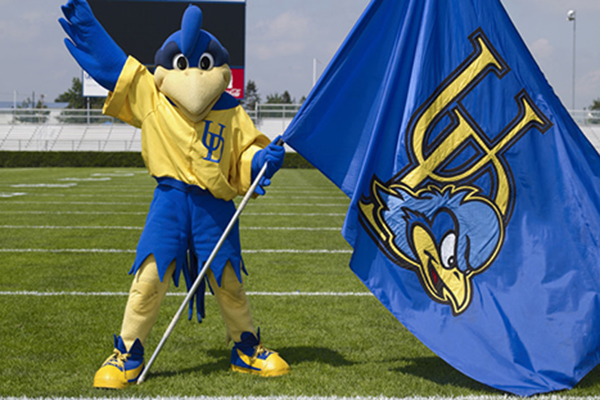 YoUDee falls
YoUDee falls in closing minutes of Capital One Mascot Challenge quarterfinals
12:25 p.m., Dec. 3, 2012--The University of Delaware's national champion mascot YoUDee fell in the closing minutes of the Capital One Mascot Challenge playoff quarterfinals.
YoUDee fell to Sebastian the Ibis of the University of Miami in the quarterfinals following an intense weeklong competition that rarely saw either mascot more than one full percentage point ahead of the other.
From graduates, faculty
As it neared time for the processional to open the University of Delaware Commencement ceremonies, graduating students and faculty members shared their feelings about what the event means to them.
Doctoral hooding
It was a day of triumph, cheers and collective relief as more than 160 students from 21 nations participated in the University of Delaware's Doctoral Hooding Convocation held Friday morning on The Green.
YoUDee held a narrow lead through much of Monday morning but was unable to overcome a late surge by Sebastian.
The playoffs are single elimination, and Sebastian moves on to face Raider Red of Texas Tech University in the semifinals. In the other semifinal, Cocky of the University of South Carolina faces Cam the Ram of Colorado State University.
"Everyone involved with the mascot program offers sincere thanks to the many Blue Hens around the world who supported YoUDee through a long and competitive Capital One Mascot Challenge," said Sharon Harris of the Office of Communications and Marketing, who directs the mascot program. "For YoUDee to have been represented among the final eight mascots in the playoffs – and to nearly reach the 'final four' -- is a great honor."
After being selected by Capital One, members of the YoUDee mascot team traveled to Los Angeles to participate in the preparation of promotional materials for the challenge. The Capital One Mascot Challenge site now features humorous videos of the mascots.
The Capital One National Mascot of the Year will be announced at the Capital One Bowl on Jan. 1, 2013, and will be awarded a $20,000 scholarship to help fund its school's mascot program. Each of the 2012 Capital One All-America team members will also receive $5,000 for their university mascot program.
YoUDee is enshrined in the Mascot Hall of Fame and is the defending national mascot champion, having won the top prize at the Universal Cheerleaders Association (UCA) College Cheerleading and Dance National Championships held in January at Walt Disney World in Orlando, Fla. The team will be returning for the championship event in 2013.