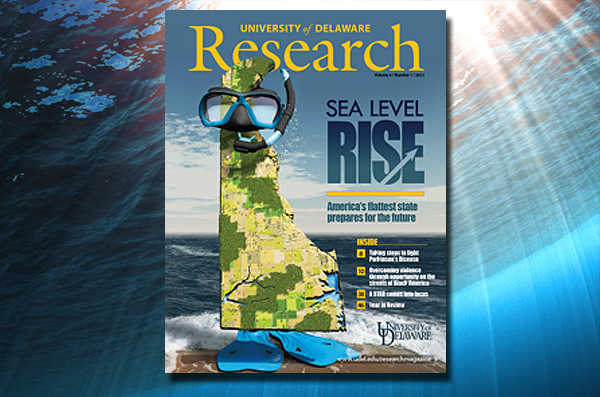 Rising seas
Research magazine focuses on sea level rise risks, preparation
11:46 a.m., Dec. 21, 2012--As the flattest state in the U.S., Delaware has a lot to lose in the face of rising seas. An estimated 8 to 11 percent of its land will be inundated by the end of this century, according to the state's recent sea level rise vulnerability assessment, putting as many as 17,000 homes at risk, among other serious impacts.
The latest issue of the University of Delaware Research magazine showcases UD efforts to prepare for a "new normal," from a new climate change education initiative for grades 8-12 — a National Science Foundation project that is a partnership with the University of Maryland — to the development of a new salt-tolerant crop plant for coastal farms. 
Chronic wounds
UD's Millicent Sullivan and Kristi Kiick have received a $1.4 million grant from the National Institutes of Health for research that could provide a new approach to the treatment of chronic wounds.
Prof. Heck's legacy
The American Chemical Society is highlighting the legacy of the late Nobel laureate Richard Heck, the Willis F. Harrington Professor Emeritus of Chemistry at the University of Delaware with a digital tribute on its publications website.
"In a state as small and flat as ours, sea level rise affects everyone, and affects us now," says University President Patrick Harker. "I'm glad UD is on the front lines of the First State's response."
A year in review section snapshots key developments and accomplishments.
As Vice Provost for Research Charlie Riordan notes, UD's sponsored research expenditures surpassed $140 million for the first time in history during the past year, representing a 35 percent increase over the past five years. 
Other highlights include a story and video on interdisciplinary research by Sunil Agrawal in mechanical engineering and Ingrid Pretzer Aboff in nursing on a robotic shoe that is helping patients to literally take new steps to fight the symptoms of Parkinson's disease.
With support from Wilmington's HOPE Commission, sociologist Yasser Payne has documented the relationship between structural opportunity and physical violence in the city's East Side and Southbridge sections. As part of this work, he formed a 15-member research team from the community to survey residents on causes of violence.
UD's Science, Technology and Advanced Research (STAR) campus is coming into focus, with phase-one development begun. Learn how UD is building on the Delaware Technology Park's success to create an expansive new innovation center at STAR.
This issue contains numerous web extras, from videos to lectures and interactive maps, along with a Test Your Knowledge quiz on women inventors. 
The award-winning magazine is a partnership of the Research Office and the Office of Communications and Marketing. Read the edition online or request a printed copy. Subscriptions are free.